Cybernaut
The Plastic World of
R

ealSelf

Cyberbits #10: "The TripAdvisor of Boob Jobs"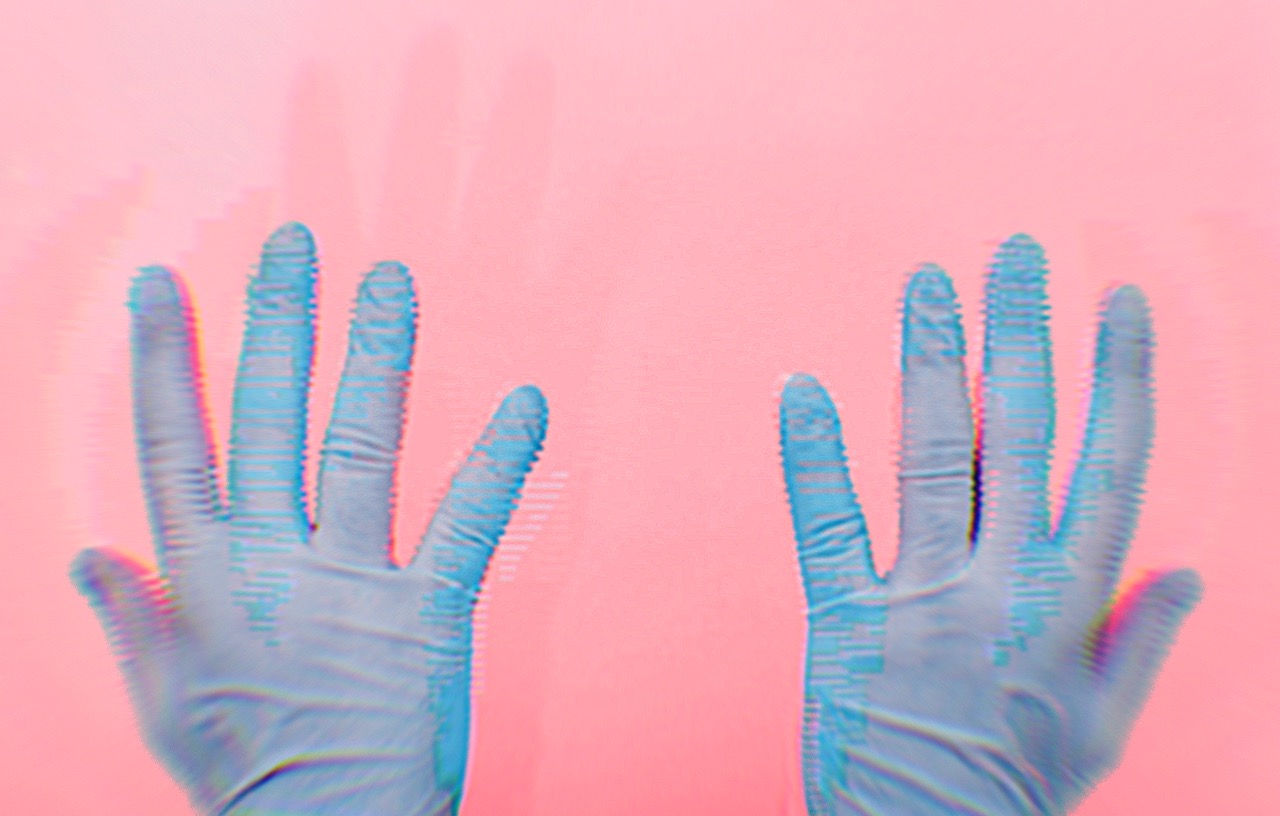 Welcome to another edition of Cyberbits—a bi-weekly column on all things internet culture, from TikTok trends to random corners of Reddit to secret online subcultures. I send out Cyberbits in between working on longer essays, like my recent piece on The Blurred Lines of Parasocial Relationships. 
Cybernaut Around the Web
My articles only get these mentions because of all of you reading, forwarding, sharing, and subscribing—thank you so much for the continued support! :)
For Members
A paid subscription to this newsletter gets you access to weekly editions of Cyberbits, and members-only posts like these:
You'll also get access to the entire Every bundle of newsletters and podcasts, including Glassy, Means of Creation, The Long Conversation, Talk Therapy, Napkin Math, and many more!  Plus, receive entry to our Discord where we're chatting about TikTok's blackbox algorithm, Nike's 10 maxims, and how selling initial NFTs can fund a creative project. 
If you want to pay for only my newsletter, just reply and let me know!
The Plastic World of RealSelf
"I want to feel brand new…I just want to be free and about, be my real me."
This is a sentiment you'll read again and again in the comments from users across RealSelf, an online marketplace that connects users with plastic surgeons and reviews of their work. Anyone considering elective cosmetic treatments and plastic surgery—from Botox to breast augmentation—can do their research, sort through doctors, and read first-hand reviews of surgeons and specific procedures. It's been dubbed the "The TripAdvisor of Boob Jobs." 
The description is apt: founded in 2006 by a former Expedia executive, the platform aims to provide the same marketplace experience you might find booking a trip to France for contemplating a facelift. In a recent press release, RealSelf mentions serving more than 100M consumers annually across 170 countries. You can "Find a Doctor," filtering by treatment, and location. You can also filter by procedure or "problem area," getting an overview of the pros and cons, how much it costs, the length of recovery, risks, time to see results, and more. On the platform, you can find "RealSelf Verified Doctors," which includes individual practitioners as well as clinics  that have registered to be on the marketplace and have been screened for "multistep professional and patient care requirements."
At a glance, a breast augmentation averages $6,525 dollars with one week of downtime and requires general anesthesia—there's further reading on deciding between saline vs silicone breast implants and whether a breast fat transfer or a breast lift might be better options.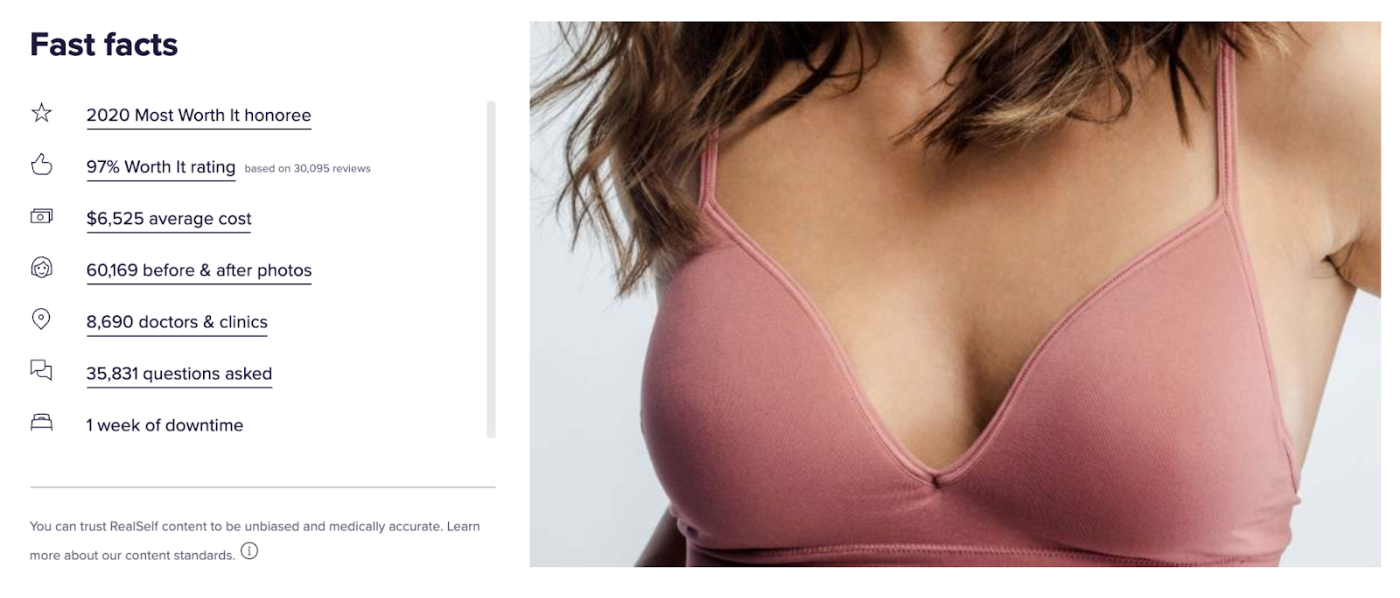 Rhinoplasty, more frequently known as a "nose job," averages $7,675 and up to two weeks of downtime—you won't have it paid for by insurance for cosmetic reasons alone, but might see a portion covered if your surgeon is "addressing functional issues."
According to the 2020 National Plastic Surgery Statistics released by the American Society of Plastic Surgeons, last year the U.S. saw 2,314,720 surgical procedures (facelift, eyelid surgery, liposuction, etc.) completed, and 13,281,235 minimally invasive cosmetic procedures (fillers, chemical peels, laser hair removal). 
Most recently, media outlets have breathlessly reported an uptick in plastic surgery since the beginning of the pandemic—an apparent combination of people seeing themselves more often on Zoom (and not liking what they see), more disposable income saved from a lack of lifestyle options in lockdown, an extended stretch of time at home that allows for recovery from procedures without anyone being the wiser, and face masks that can conceal unhealed facial changes. 
RealSelf has made it easier to make the jump from curiosity to consideration about a cosmetic procedure.
Part of that consideration is reading through the platform's most important feature: reviews of plastic surgeons and their work. Many describe plastic surgery as an artform, and evidenced by shows like Botched on E!, not every plastic surgeon is a master of the craft. RealSelf sorts the cheap imitators from the true artists, bypassing the direct websites of plastic surgery clinics, which can photoshop before-and-after pictures or simply steal them from elsewhere on the web. 
RealSelf's tagline reads, "Reviews you can trust, from real people like you," and they tout a seemingly impressive review process that doesn't allow plastic surgeons and their offices to tamper with the truth (or at least, that's the conceit—RealSelf monetizes, in part, by letting doctor's advertise and boost their profile on the platform):

The language of RealSelf reflects the "plastic surgery as art" viewpoint. Great surgeons render their work invisible. After a procedure, you don't look like someone else—you're you, but better—younger, refreshed, rejuvenated. People satisfied with their work sing their surgeons praises:
"He's a master surgeon and sculptor…"
"He is an artist and will give you the body of your dreams."
"My results are even better than what I thought was possible."
Not everyone is so lucky, and their stories can provide a public service, by giving a word of warning to anyone considering the same doctor or procedure that left them unhappy. These posters often share their plans for revision surgery:
"So it's almost a year since my procedure and it's one of the worst things I've ever done."
In either case, you'll find people sharing the receipts—photo and video evidence of their procedures. For surgeries below the neck, people often share unfiltered pictures of themselves entirely nude, frequently blurring or cropping their faces but sometimes leaving them in. Immediately after surgery, some people post graphic snapshots of their incision marks, drainage tubes, or themselves hunched over, unable to stand straight after a tummy tuck. 
But it's the photos six months or a year after surgery—the period that most surgeons suggest patients will see full results—that are meant to inspire. Users share snapshots of newly rounded buttocks and before-and-afters of deflated breasts that have been graced with new volume.   
According to the American Society of Plastic Surgeons's Plastic Surgery Statistics Report 2020, women made up 92% of all cosmetic procedures, while men up 8% (statistics on surgeries for nonbinary people were not included). The platform has branded itself accordingly—promotional images largely feature popular cosmetic procedures for women with accompanying promo shots of effortless cleavage, taut stomachs, and swollen lips.
The popularity of RealSelf is just one of countless data points showing how getting plastic surgery, and even admitting to it, has almost become blasé. 
The rise of plastic surgery is now constantly catalogued across social media. On YouTube, where creators are excessively open with their audiences, many document their plastic surgery journeys—sharing their experience under the knife and reflecting on what they might have done differently. On Instagram, plastic surgeons have become influencers, sharing before and afters of their clients—sometimes without their consent. 
According to American Society of Plastic Surgeons, people aged 13-19 "make up the least number of cosmetic procedures—only 2% of the total." But on TikTok, which skews younger the other social platforms, plastic surgery content is a mainstay. Plastic surgeons regularly go viral. A piece from Insider suggests that plastic surgery content is being actively promoted to teenagers on the platform, a claim they tested with an account:
"After just eight minutes of scrolling, a promotional video for a US-based plastic surgeon was posted on our For You Page—TikTok's personalized feed of relevant videos."
But people in their late teens and early twenties share their plastic surgery experiences of their own directly on TikTok, too. A popular meme format to a mish-mash song, "It Goes On and On and On, TikTok on the Clock," is set to videos of users counting down the days until their plastic surgery procedure—often, rhinoplasty. 
RealSelf has capitalized on this plastic surgery boom, but in some ways, it's also driving it.  
If you're looking into a tummy tuck on the platform, it's common advice—from their education resources and users, that you couple it with liposuction for best results. If plastic surgery in the United States is outside of your price range, the site has an infinite number of reviews of plastic surgeons in Mexico and The Dominican Republic who are just as artful as their American counterparts, but much less expensive. 
The name of the platform is a reflection of the message they disseminate to users, and that they repeat back: the real you, the best version of yourself, is hidden beneath the stomach pouch, indented laugh lines, and unsightly cellulite—only through plastic surgery and cosmetic procedures can you be truly you. 
There's an ongoing debate on how the images we see online—many photoshopped and unreal—are driving the normalization of plastic surgery, particularly in women. The question of ethics—whether this is "right" or "wrong"—and the role that RealSelf plays in some ways feels besides the point. Plastic surgery is now an option at the forefront showing no signs of receding to the background in the face of mounting concerns. 
Additionally, the reality appears to be that the vast majority of people who elect to get the most popular procedures are happy with their choice. One of RealSelf's key platform features is their "Worth It" rating that quantifies sentiment on surgeries: 97% of people who get a breast augmentation, 94% of people who get eyelid surgery, and 93% who get a facelift feel like they've made the right decision.
Many users express the following sentiment in their reviews: "I am so mad at myself for not doing this long before."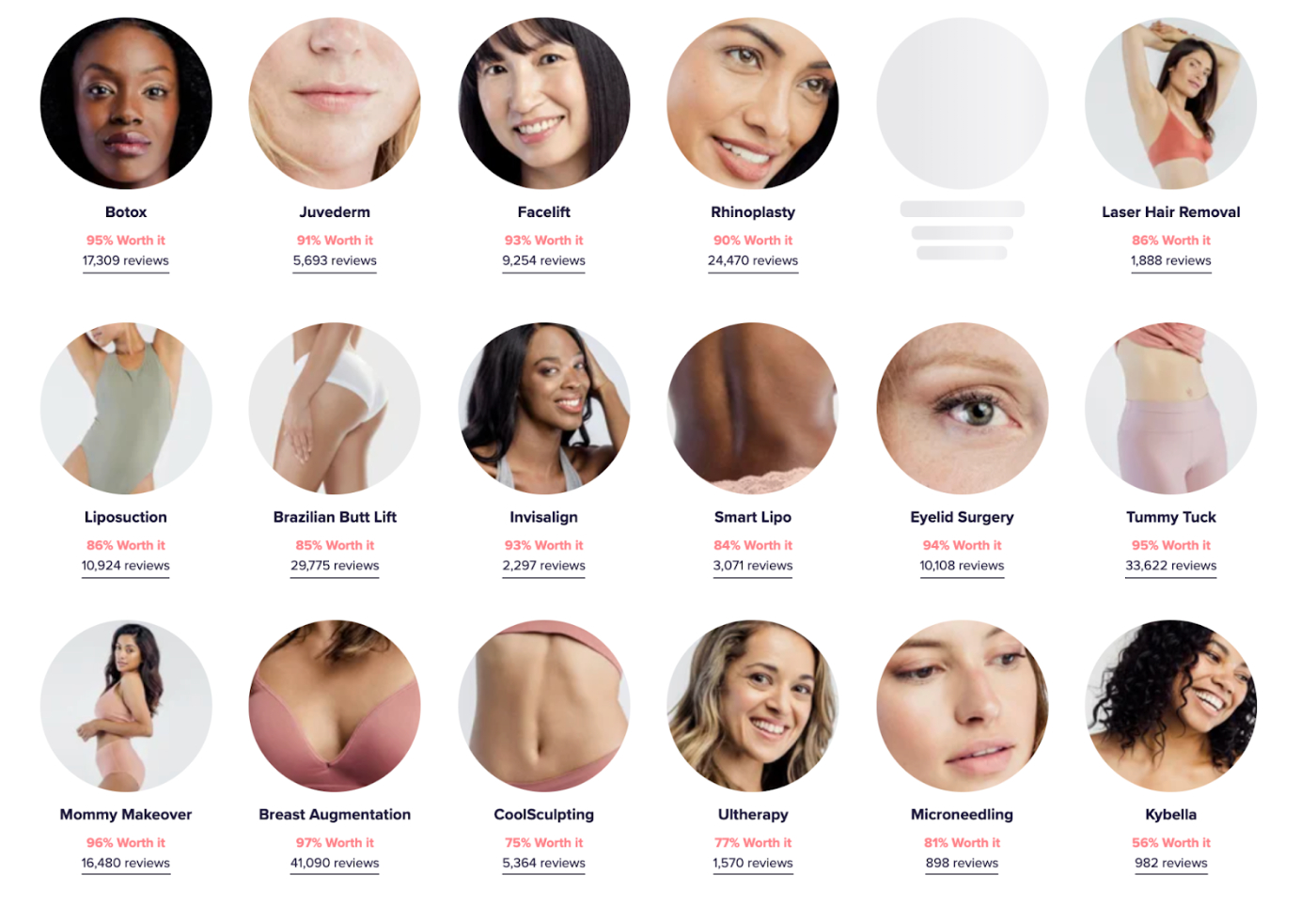 While society at large continues to ask questions about the rise of plastic surgery—reckoning with beauty standards or opining on the slippery slope of face filters—RealSelf is sidestepping the conversation but has an answer at the ready: the best version of you is a procedure (or two) away. 
Bits from Around the Web
---
Have an awesome weekend!
Fadeke