Cybernaut
Genius
V

erified: Where Singers Spill Song Secrets

Cyberbits #11: Deciphering the hidden meaning behind popular lyrics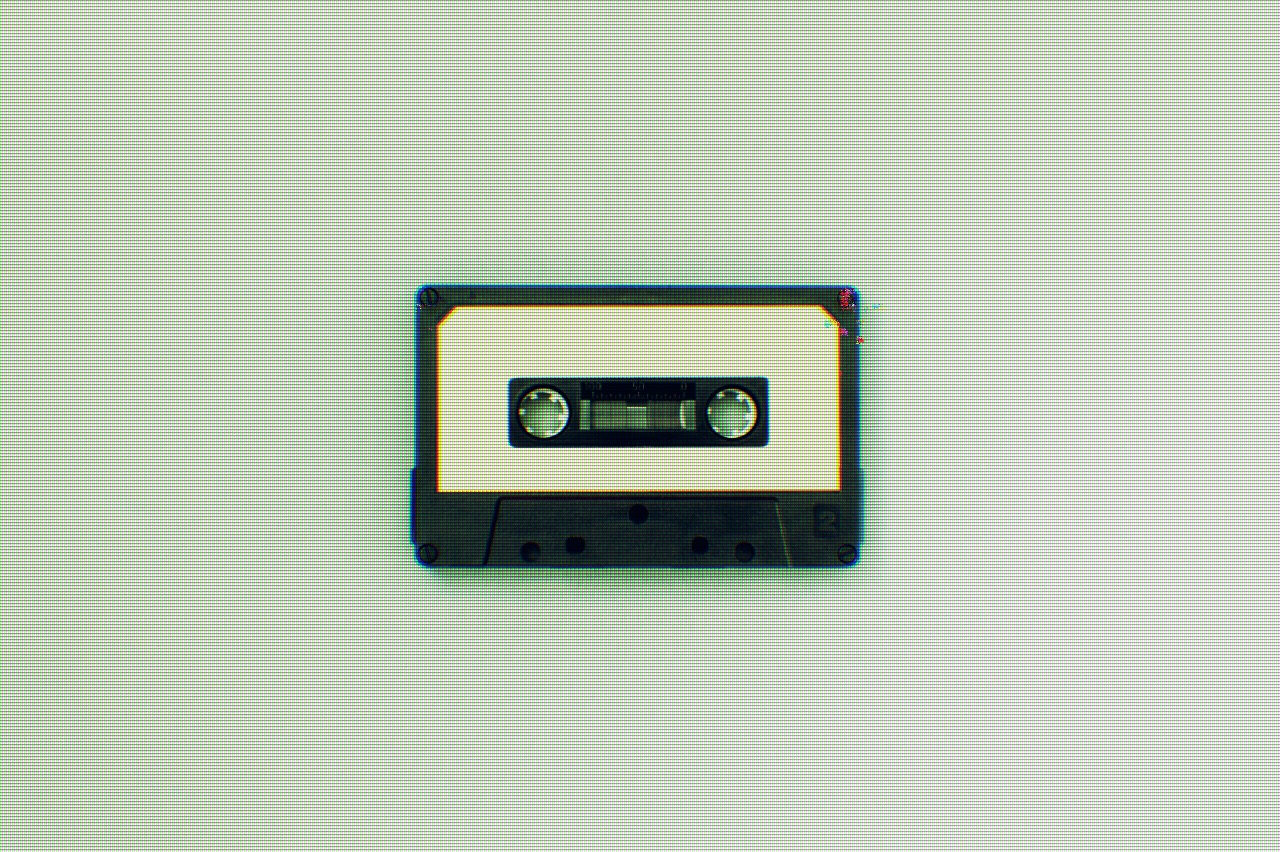 Welcome to another edition of Cyberbits—a bi-weekly column on all things internet culture, from TikTok trends to random corners of Reddit to secret online subcultures. I send out Cyberbits in between working on longer essays like these:
For Members
A paid subscription to this newsletter gets you access to weekly editions of Cyberbits, and members-only posts like these:
You'll also get access to the entire Every bundle of newsletters and podcasts, including Glassy, Means of Creation, The Long Conversation, Talk Therapy, Napkin Math, and many more!  Plus, receive entry to our Discord where we're chatting about Clubhouse's recent name change, DAOs, and the return of Gawker.
Genius Verified: Where Singers Spill Song Secrets
In the 2019 song "Did it Again," Lil Tecca raps about hook-up culture, travelling to lavish locations, and driving an expensive car. But in a Genius Verified video, a series where artists explain their song lyrics, he exposes the reality behind the rap song from his debut mixtape: 
"I got a pack, hit 'em and do it again, fuck it, I'm fucking her friend," he raps, following up his lyrics with this commentary: "I have a girlfriend…don't DM me." 
Rapping, "I got bands, one day I'm flying to France, juggin' 'till a nigga land," he pauses to note, "Nah, I never went to France. But one day I will." 
To the lyrics "Crashed the 'Rari, so I hopped in the Benz," he clarifies that he doesn't drive—a few years shy of 18, donning braces, he doesn't know how.

The exchange has spawned endless jokes in the comments parodying Lil Tecca's lyrical dishonesty.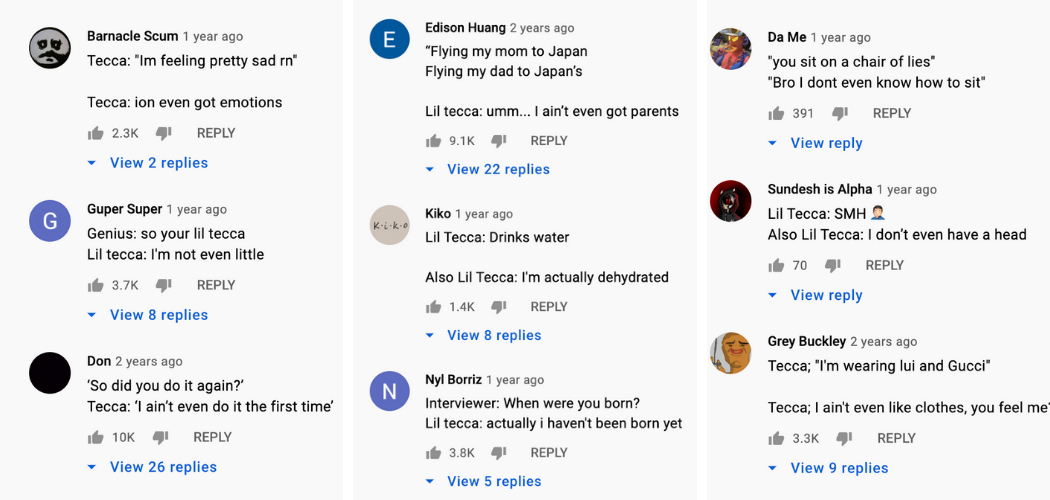 Addressing viewers in the video, he's unapologetic about his half-truths and outright lies: 
"I write about fucking bitches and I have a whole girl. I ain't fucking none of these bitches, period. If you don't like what I'm talking about, go listen to someone else, it's that simple. That's the beauty of music." 
The video somehow manages to be endearing—an indictment of the audience, not the artist: if you believed this teenager's tales about over-the-top money and sex fuelled escapades, that's really a you problem. 
Genius Verified is an offshoot of Genius, the lyric site founded in 2006 under the name "Rap Genius," that bills itself as the "world's biggest collection of song lyrics and musical knowledge."
In addition to an enormous repository of song lyrics from every genre, Genius attempts to capture the meaning behind the lyrics through user-generated annotations. The context users add ranges from astute to asinine—in an annotation on Kendrick Lamar's "Money Tree," attached to the lyrics "A silver spoon I know you come from, ya bish (Ya bish), And that's a lifestyle that we never knew (We never knew)," the annotation reads simply: "Being 'born with a silver spoon in your mouth' means you come from a well off family."
The annotations that users leave are a mix of these straightforward explanations of familiar metaphors, cross-references with other songs by the same artist, or deep cuts from pop culture. To distinguish when an artist has gone on the record and explained a lyric, there are "Verified Annotations" in yellow. But most interpretations are largely best guesses, meaning that is assumed but not known. 
But on Genius Verified, we get lessons in lyricism from artists directly. Line by line, musicians share the conceit behind each verse, making the unknown known. These videos garner tens of thousands or millions of views, depending on the popularity of the song—their video with Lil Nas X deciphering "Old Town Road," the song holding the record for the most consecutive weeks at the top of the Billboard Hot 100, has over 18M views. In the video, the transgressive star takes viewers through the thought process behind his prose: "Around that time, I had just watched that Dallas Buyers Club movie," he mentions, discussing the Western-inspired imagery he conjures in the song, including bull riding and tractors. 
In many ways, Genius Verified is the perfect content for our online age. Among the artists who have participated in Genius Verified videos are Billie Eilish, Megan Thee Stallion, Doja Cat, and Saweetie—a class of artists that's decidedly internet-first. The popularity of some of their biggest songs reached fever pitch through platforms like TikTok. It's this same crop of artists who the internet demands to "know" in a way that feels particular to this social media moment where the lives of public figures are often treated as common property. 
The desire to know more about the art we consume—a novel character's motivations, what a painting conveys, the meaning behind an ambiguous ending—is expected. But today's artist giving in to these demands, providing unfettered access to the emotion and intention behind their work, is another instance of the blurred lines between creators and fans. The YouTube Live Q&A is not enough, the home tour is not enough, the behind-the-scenes on Instagram is not enough, not enough, not enough. Knowing the thoughts behind a song—the meaning behind every reference and inflection point—is owed, another opportunity to feel even closer to an artist. 
To the questions of whether art should be explained and if artists should reveal the meaning behind their work, the series has a clear answer: "Yes, in detail." But historically, the answer to both questions has been "no." Leaving art to audience interpretation, and letting work speak for itself, has been the norm. While an artist might vaguely speak on their inspiration or coyly hint at a hidden connotation, discussing your art was to allude not to explain. There's an argument to be made that being so forthcoming with once out-of-sight details is just another mechanism by which artists unravel themselves for an audience, leaving nothing to themselves but an entitled fanbase. But there's another argument, too, in defense of the art itself: a singer explaining away interpretation isn't the start of a conversation but the end. 
We've come to demand explanations of art, not allowing any rhyme to be rhetorical. Despite shedding its previous moniker "Rap Genius" in 2014, the series disproportionately sits down to decipher lyrics with rappers. Rap, in many ways, is a form of poetry and a kind of storytelling. Having the poet go through each line extracts the opportunity to interpret; it makes three-dimensional art one-dimensional, by casting away different possible meanings and leaving only one: that of the artist. 
In the trade-off of explaining their work, artists earn audience affection. But it's worth wondering what they've lost after they've explained each emotion and unspooled every secret, instead of letting listeners hear the music for themselves. 
Bits from Around the Web
---
Have an awesome weekend!
Fadeke