Napkin Math
Microsoft should buy Netflix
Netflix and Bill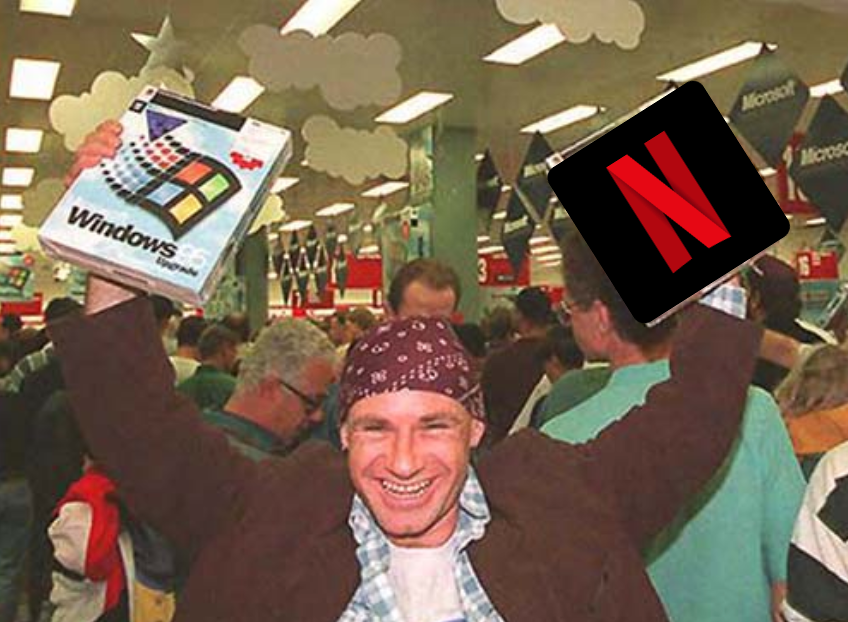 Some great news! In addition to writing Napkin Math, I've joined Tidemark as a Director. Tidemark is a rare breed of growth equity firm that is actually building a differentiated product. The people are kind, the deal flow is substantial, and 10% of firm profits are donated to charity. I'm excited about the fund for all these reasons—plus the firm shares my deep belief in hardcore analysis (see their recent work on vertical SaaS). This role is something I've wanted to do for a long, long time so it is exciting to be partnering with a team that resonates with my beliefs about how a fund can win. We are currently investing out of a $575M Fund 1 to partner with startups as they hit escape velocity. 
Writing essays on what I'm passionate about has completely altered my professional career. I'll continue to publish here full-time but my role at Tidemark will be a little extra spice on top. If you are scaling in the creator economy or vertical SaaS space, reach out. 
And with that, we return to our regularly scheduled programming. Today is a quick take on what Netflix should do next based on their earnings miss from this week.

---
Perhaps the demise of Netflix was obvious in retrospect. A sampling of recent shows includes: 
A show called "The Ultimatum" where one partner says "marry me or we are done" on national television
A show called "Love is Blind" where people got engaged before even seeing what the other person looks like
A show where people go on dates dressed as animals entitled "Sexy Beasts"
Whether or not you blame the light bestiality undertones of their recent programming, Netflix stock is getting crushed after a huge earnings miss. As of writing, the stock had dropped 35% with its worst daily performance since 2004. The company net lost 500K subscribers last quarter versus having previously forecasted a net ad of 2.5M. Guidance for next quarter is forecasting a 2M subscriber loss. This is the first time the company has shrunk in over a decade. 
So all in all—not great. 
The Problems:
There are 4 excuses that management gave for why growth has flatlined: macroeconomic woes, availability of screens/broadband, password sharing, and increased competition. Let's walk through each quickly.
Macro-smacked
The first is what I like to call the Biden special, "It's Putin's fault!" The management states that "macro factors, including sluggish economic growth, increasing inflation, geopolitical events such as Russia's invasion of Ukraine, and some continued disruption from COVID are likely having an impact." Blaming the macroeconomic conditions for failure is the public company equivalent of calling a mulligan. 
Analyst: How would you explain a 2M subscriber miss?
Netflix CEO: Would you give me a gimme if I wildly waved my hands and said "the economy"?
To be fair to Netflix's argument, the company did choose to wind down operations in Russia and lose 700K subscribers (take that Putin! No Stranger Things for you). But the excuse of a weak economy is one utilized by weak companies. 
Of course it is easier to have success in consumer entertainment when lots of people have excess cash to spend! That the economy got tight and everyone started churning is concerning. People's increased price sensitivity and more stringent utility calculations mean that Netflix's failure (especially relative to the growth of its direct competitors) means the service isn't as valuable as management thought.
Screen shortage?
The company also said the availability of screens/broadband is being a hindrance to their growth. 
"First, it's increasingly clear that the pace of growth into our underlying addressable market (broadband homes) is partly dependent on factors we don't directly control, like the uptake of connected TVs (since the majority of our viewing is on TVs), the adoption of on-demand entertainment, and data costs. We believe these factors will keep improving over time, so that all broadband households will be potential Netflix customers."
This assertion by the team management teams doesn't feel novel at all. This has been obvious since 2007 when they started streaming! Of course, the limit of screens and internet broadband will limit growth. This feels like another roundabout admission of overestimating TAM. 
To me, both of these reasons are kind of weak. But there were two important reasons for their lack of growth that are actually worth honing in on.
What's your Netflix password?
"Second, in addition to our 222m paying households, we estimate that Netflix is being shared with over 100m additional households, including over 30m in the UCAN region. Account sharing as a percentage of our paying membership hasn't changed much over the years, but, coupled with the first factor, means it's harder to grow membership in many markets - an issue that was obscured by our COVID growth. "
I love this excuse because it means all of us utilizing our ex's Netflix account caused a company to lose ~55B in market cap. When a company starts to worry about nickels, it means that the dollars are in trouble. Password sharing had been happily ignored by the company for many years because it was assumed that eventually lots of those people would convert. Having 31% of total households being freeloaders is a big deal! But this signifies that they are running out of TAM. They didn't see the TAM restrictions because COVID juiced growth, but the error is obvious now. 
Yet Another Streaming Service
"Third, competition for viewing with linear TV as well as YouTube, Amazon, and Hulu has been robust for the last 15 years. However, over the last three years, as traditional entertainment companies realized streaming is the future, many new streaming services have also launched. While our US television viewing share, for example, has been steady to up according to Nielsen, we want to grow that share faster. Higher view share is an indicator of higher satisfaction, which supports higher retention and revenue."
In 2019, Reed Hastings the Netflix CEO, famously said that, "We compete with (and lose to) Fortnite more than HBO." That…is no longer true. The company included this chart in its investor letter. 
While yes, the company competes indirectly with all entertainment solutions, the company is losing to other services that operate with much smaller budgets and only started streaming services in recent years.
Even more concerning, the company's response was tepid. 
Netflix's Solution:
The company's fix to subscriber growth was twofold. The first is to crack down on password sharing. The second solution was shocking and unexpected. Reed Hastings said the following during the Q&A session of the call,
"Related to that, Greg [Peters, Netflix's COO] has done great work on the price spread. And one way to increase the price spread is advertising on low-end plans and to have lower prices with advertising. And those who have followed Netflix know that I've been against the complexity of advertising and a big fan of the simplicity of subscription. But as much I'm a fan of that, I'm a bigger fan of consumer choice. And allowing consumers who would like to have a lower price and are advertising-tolerant get what they want makes a lot of sense. So that's something we're looking at now. We're trying to figure out over the next year or two. But think of us as quite open to offering even lower prices with advertising as a consumer choice."
Advertising is incredibly difficult to build and is a complete departure from the previous narrative of the company. Hulu and other streamers have successfully incorporated an advertising tier into their offerings, so we know the product works, but for this just to be mentioned in an offhand way isn't compelling. 
I'll save any further analysis of whether the ad business will work until we get more details on how they choose to do it.
However, this still wouldn't fix the long-term growth and churn issues! Getting more people to sign up likely requires a step-function change in value for the offering. To that, I would propose something different...
---
To unlock the rest of the article and to gain access to the rest of the Every bundle, hit the subscribe button below. Your first two weeks are only a dollar.