Napkin Math
3 Thoughts On Justworks
The newest SaaS company to hit the public markets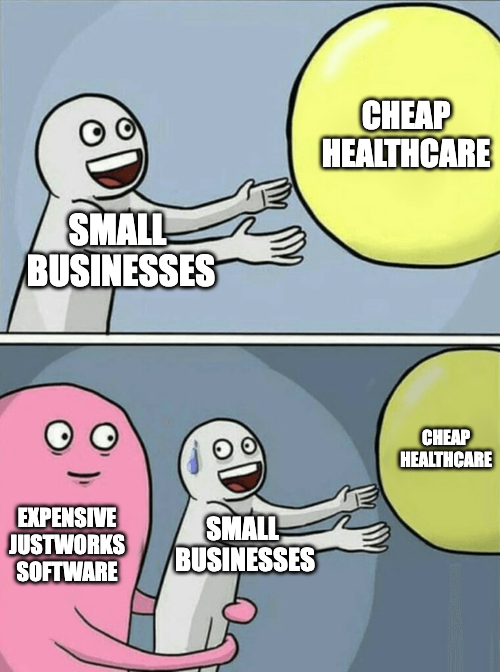 Over the last couple of years, a subset of technology companies have become post-modernist interpreters of financial statements. They dig for justifications, which run the gamut from the moderately compelling to the milk-out-the-nose ridiculous, for obscene valuations. When these kinds of hijinks are afoot, investors tend to either lean into the memeification of numbers or go purely old school in their analysis. Ironically, for the geezers of yesteryear, they get so caught in the previous paradigm of analysis that they fail to recognize the next evolution. 
The best capital allocators do both. They learn from the past and simultaneously suspend disbelief about a possible future. Today, we will attempt to do the same.
There is a new type of company emerging that challenges historical assumptions. Think of it as "SaaS + Wedge." These are companies that derive strength from coupling smart software with an automated or otherwise graceful prescription for a regulatory pain in the ass. It's a combination that wins, particularly on the SMB side. The margins are worse and the growth may be slower than their purely SaaS peers, but these companies are coming ever more prevalent.
Now, there's a new public entrant telling a growth story that seems to underscore this thesis. Justworks is an HR tech company and font of seeming contradictions. It's a cloud company with a geographically concentrated client base. It's a software company that makes most of its money selling an honest-to-goodness service. And it's a growth-stage company that is *gasps in horror* profitable.
Justworks is set to go public at a roughly $2B valuation in the next few months. As you consider adding the company to your portfolio, there are a few questions that strike me as important:
1st) Has Justworks selected the correct market wedge to win against similarly constructed SaaS+ competitors?
2nd) Why are 53% of its customers depressed about the Knicks season? 
3rd) Does the valuation make sense in the context of the wild private markets?
PEOing, PEOing, Gone
When someone starts a company, they are filled with dreams of escaping their 9–5 corporate life (Amazing! You now work 12 hours a day). 
Entrepreneurs may wish to believe that running a new company is about innovation, storytelling, product-market fit, and managing a P+L, but this is wrong. Mostly, it's about doing paperwork. Much of the humdrum of entrepreneurship is driven by back-office needs. Stuff like accounting, supply orders, and perhaps worst of all, human resources.
Justworks is a software company that solves the back office problems of HR. Their product suite has lots going on—there are 18 features just with the basic plan. Capabilities range from e-signatures, timekeeping, and payroll administration. The big picture is that they've digitized and automated all the paperwork that accompanies managing people. This segment is at a roughly $110M ARR.
Here's the twist. When you look at their financials, the software business isn't their biggest thing. Instead, it is this funky line: "Benefits and insurance related revenue." It did $895.3M relative to their $87.4M in subscription revenue at year-end of May 21.
One of Justworks offerings is access to a professional employer organization (PEO). To make a long and intensely boring story short, that means Justworks customers can gang up under one federal employment ID and buy insurance together. PEO's enable small businesses to get best-in-class health benefits at the same price as places like Apple. So the $263.7M in under "Benefits and insurance related revenue" represents payments made from companies to be a part of their PEO and offer healthcare and other benefits to their employees, and the $27.5M under "Subscription revenue" represents a per-employee flat fee that companies pay separately just to use their software.
But it's really the benefits and insurance revenue that makes Justworks an exciting business. The main reason is that they can offer it much more efficiently than competitors. This $263.7M in revenue has $249.2M of "cost," which is what Justworks pays to insurance companies like Aetna as the reseller of their insurance packages. Compare their income statement with Trinet, the legacy player in PEOs. Trinet does some insurance trickery that makes their product slightly different but it is the closest public comparison.
Trinet derives all of their margin from eking pennies out of their insurance offering resulting in 15% gross margin on $3,490M of revenue. Their add-on service of having people manage the implementation process is far less profitable. Justworks inverses their model by replacing the consultants Trinet uses with clever software tooling and is able to turn a cost center into their primary driver of their gross margin. 
Justworks used technology to change consulting from a cost center into software that prints money. They changed benefits from complicated administration to a product wedge.
The business is eerily similar to previous Napkin Math subject Toast. Both utilize the SaaS+ strategy. Toast combines clever software and payments to dominate the SMB restaurant space. Justworks uses clever software and PEOs to attack all SMB businesses. It's hardly shocking that Toast competes with Justworks with a payroll and benefits platform or that Justworks targets restaurants.
That said, Justworks takes a slightly different angle on SaaS+ by replacing payments with insurance products. Still, the fiscal results are similar. Justworks has a 117% NDR, Toast a 110%. And their non-software lines boast semi-similar gross margins (Toast at ~20%, Justworks at 5.5%). Justworks insurance revenue was at 90% of their total, Toast's payments was ~83%. 
Unsurprisingly payments is a better business than reselling someone else's insurance product, but that isn't actually the critical point. The critical point is that both businesses have a powerful acquisition/retention wedge unrelated to software. Whether Payments or People Operations is the correct wedge is still undetermined, but I would bet that the vertical solution will win. Fortunately for Justworks there are lots of SMBs in the sea.
If You Can Make It Here, You Can Make It Anywhere
When I started my research for this article I expected Justworks's PEO offering to be the centerpiece of their GTM strategy. "We are cheaper" is usually the best bet when trying to acquire SMB customers. And it is critical to the company's growth strategy, but if you step back you see something else: 53% of Justworks customers are in the New York City area.
I can't overstate how bizarre this is to me. Companies always have their home-court advantage—in my current home of Utah basically every SaaS startup gets its first 5 customers from the local companies—but for a company of this size to have $55M ARR/53% of their revenue, in one place?! It is a testament to how efficient on the ground marketing and word of mouth can be (and just how many people are in New York). 
In many ways, this push reminds me of how Brex (a B2B fintech startup recently valued $12.3B) launched in SF in 2019. The city was absolutely blanketed in Brex billboards announcing their product. 
"We scaled faster than we thought we would. I think we did 2x what we thought we were going to do, so it scaled really, really fast…So, one of the things that a lot of people know us for is the billboard campaign in San Francisco. We basically bought a shit ton of billboards and a lot of people recognized us from that. We had actually had a higher response rate on outbound emails because we did this billboard campaign. " 
Justworks has done the New York version of that, plastering subway walls with their ads. Note: I feel like every founder everywhere has seen that Brex interview. Utah's highways are plastered with startup billboards. Every company in New York wants to have subway ads. VC dollars being spent on physical ads are everywhere.
They've also done other regional moves like partnering with local venture studios. The company has figured out how to sell to the notoriously competitive New York market. 
SMB SaaS acquisition is very tough to make work in major markets. The cost of running a sales team out of New York, coupled with the small contract sizes, makes the economics of building a national business really tough. Justworks solved this by only doing local businesses, giving them word of mouth power, and slowly branching out over time. This all leads to their LTV/CAC ratio at 5.7. 
With a yearly growth rate most recently pegged at 42.4%, the business has built a GTM machine that isn't the fastest-growing or highest margin but throws off tons of cash. They'll be able to fund more aggressive campaigns as they capture other major geographic regions. 
So… is the Valuation Reasonable? 
My favorite article published in Q4 of last year was Eric Newcomer's($) breakdown of SaaS startups that had raised at billion dollar+ valuations off of single-digit ARR. I simply couldn't believe it when I saw it. 
Anyscale — Andreessen Horowitz and NEA-backed application development platform has raised at a unicorn valuation in a round led by Addition.
ClickHouse — Benchmark-backed company, running Confluent's playbook. Coatue and Altimeter led a $250 million investment that valued the company at $2 billion in October.
dbt Labs — Andreessen Horowitz and Sequoia-backed analytics engineering tools company raised at a $1.5 billion valuation in a round led by Andreessen, Sequoia, and Altimeter.
Drata — Cowboy Ventures and GGV Capital-backed security and compliance automation platform company raised $100 million in a Series B round led by ICONIQ Capital that valued the company at $1 billion.
Modern Treasury — Benchmark-backed company that raised $85 million in a round led by Altimeter in August that valued the company at $2 billion.
I'm not going to quote them all out of respect for his paywall but this is only half of them!! If you are as addicted to tech news as I am, Eric's newsletter is one of the few I deem worthy of subscribing to. 
If we are generous and give these startups $10M in ARR, you are looking at a 100x ARR multiple. It is likely that it is even higher for most of them.  In comparison, Justworks' rumored valuation of $2B has them landing at roughly 20x ARR. That would put them in the region of the top quartile of SaaS. Not unreasonable for their size and growth rate. However, this doesn't even account for the insurance product revenue! Note: I've highlighted Okta trading at 19.5 so you can see roughly where Justworks would slot in. Source: Public Comps. 
What is wild is how disconnected the public and private markets are. Justworks is a remnant of an earlier era when a $2B outcome would've been a cause for celebration. With current VC fund sizes, investors' returns on this wouldn't even get them halfway to 3x cash return standard.
In the context of the public markets, a $2B valuation seems reasonable. In the context of the private markets, Justworks is undervalued. 
Conclusion:
Justworks serves as evidence that my original theory of B2B software disruption—that SaaS companies would add Fintech capabilities to capture marketshare and lower prices—may need additional refinement. It may be possible that horizontal SaaS companies can beat vertical competitors because the "+" portion of the strategy can include more types of products than I originally hypothesized. Regardless, Justworks is a nice little business that boasts a strong fiscal performance and has a lot of runway left.
 There are lot more cities in the U.S. besides New York.