Napkin Math
3 Thoughts On Justworks
The newest SaaS company to hit the public markets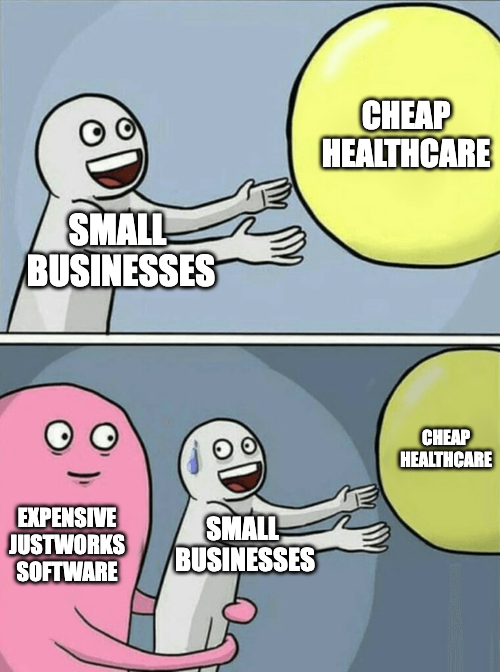 Over the last couple of years, a subset of technology companies have become post-modernist interpreters of financial statements. They dig for justifications, which run the gamut from the moderately compelling to the milk-out-the-nose ridiculous, for obscene valuations. When these kinds of hijinks are afoot, investors tend to either lean into the memeification of numbers or go purely old school in their analysis. Ironically, for the geezers of yesteryear, they get so caught in the previous paradigm of analysis that they fail to recognize the next evolution. 
The best capital allocators do both. They learn from the past and simultaneously suspend disbelief about a possible future. Today, we will attempt to do the same.
There is a new type of company emerging that challenges historical assumptions. Think of it as "SaaS + Wedge." These are companies that derive strength from coupling smart software with an automated or otherwise graceful prescription for a regulatory pain in the ass. It's a combination that wins, particularly on the SMB side. The margins are worse and the growth may be slower than their purely SaaS peers, but these companies are coming ever more prevalent.
Now, there's a new public entrant telling a growth story that seems to underscore this thesis. Justworks is an HR tech company and font of seeming contradictions. It's a cloud company with a geographically concentrated client base. It's a software company that makes most of it's money selling an honest-to-goodness service. And it's a growth-stage company that is gasps in horror profitable.
Justworks is set to go public at a roughly $2B valuation in the next few months. As you consider adding the company to your portfolio, there are a few questions that strike me as important:
1st) Has Justworks selected the correct market wedge to win against similarly constructed SaaS+ competitors?
2nd) Why are 53% of its customers depressed about the Knicks season? 
3rd) Does the valuation make sense in the context of the wild private markets?
---
I know—paywalls suck. But your support allows me to publish independent research at prices lower than anywhere else. Most stock reports are 10x my price but I want to keep it low enough to be accessible to everyone. If you join, your first two weeks are only a dollar. You'll also gain access to all the newsletters in the Every bundle such as Divinations which focuses on businesses strategy and Almanack which analyzes cryptocurrencies.