How We
B

ecame Every

The soul in the media machine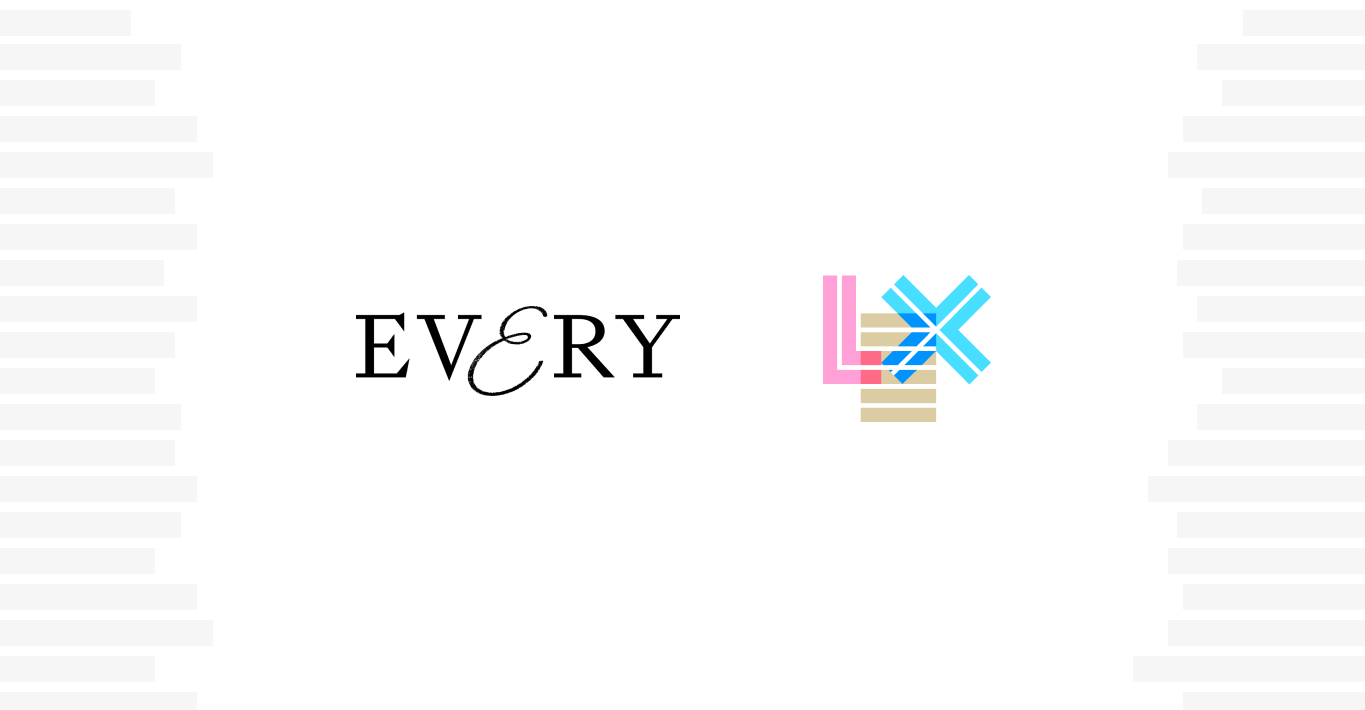 TLDR: We're spinning out Lex, our AI writing app, as its own company! Every co-founder, Nathan, is going to be the CEO of Lex, for which he's raised a $2.75 million seed round from True Ventures. Nathan will continue writing at Every from time to time. I'll still be CEO of Every, and I'm still writing weekly. All paid Every subscribers will get free access to Lex's paid plans going forward. 
I'm incredibly excited about the future of Every and Lex. It's an important statement for a media company like Every to be able to incubate a venture-funded startup like Lex. We have some exciting announcements to make in the near future—new writers, new editorial products, new courses, and more. But this is a big moment, and before we get to those, I wanted to take some time to reflect on the journey that Nathan and I have been on as co-founders, and the impact he's had on me and on Every over the last few years. 
I hope you enjoy!
---
Whatever Nathan does, he puts his whole body into it. It's impossible for him to do anything less. 
I noticed this the second time we hung out. It was February 2015, in a little coffee shop in New York's East Village called Wayside. We sat at high-top tables drinking coffee and eating panini'd egg sandwiches spread with pesto and butter. 
We barely knew each other at this point, but he'd come to pitch me on the future of books. The idea was to create a book that was built for mobile devices, and he called it Hardbound. New mediums require new formats. Nathan believed in the future of text, and he wanted to build it.
In those days, the hot things to build were social networks and B2B SaaS. Most people in tech were brimming with optimism, but it had a tinge of lust and greed. Nathan had a different vibe. It was refreshing. There was something almost artistic about the way he talked about software and businesses that I hadn't encountered before. 
Here's what I wrote in my journal at the time: 
"I think [Hardbound's] super interesting. And I was really inspired by it. Like yeah, it is possible to spend my time doing something like that…Like I should really be thinking bigger, and be trying to add more soul into what I'm doing…I think I tend to just think about the hard facts instead of also bringing in how I feel about it. And I think ultimately I'll create something great if I bring both to the table…I need more soul."
I know I said at the top of this essay that Nathan puts his whole body into things. But I don't think that's quite a big enough word. It's not just his body—it's his whole being. His soul. I'm not sure about the metaphysical implications of that word, but I know it applies here. He puts his whole soul into what he's doing. This was a revelation for me.
My previous company was a B2B SaaS company. I was used to a grind-it-out world of business where you don't do things because you want to—you do them because you have to. This attitude is helpful to make your cash register ring, but, if it's not paired with something else, it leaves an unpleasant emptiness at the end of the day.
I knew after this meeting that I wanted more soul in my next company—but what I didn't know is how to find it. 
So I went on a journey to find it. I tried all sorts of stuff, and none of them stuck—until I started a little newsletter about the systems and processes people use to be productive called Superorganizers in 2019. It grew fast, and I began to do research into B2B newsletters and think about what it would be like to run a media company devoted to covering business niches.
I first started working with a friend who wanted to buy more newsletters and run them. It was a tantalizing economic proposition, but something about buying newsletters, rather than the creative act of building them from scratch, felt flat.
On Thanksgiving of that year I called Nathan. We'd been close friends over the years since that meeting at Wayside. He'd started and then moved on from Hardbound. He'd spent time at Gimlet Media and was the first employee at Substack. I'd been a groomsman at his wedding, and we'd started a short-lived podcast together.   
I pitched him on the earliest inklings of what would become Every, and the fit was instantaneous. An hour later he sent me a spreadsheet with a potential growth model for the business, and in the ensuing days and weeks he flooded me with creative ideas and new directions for our nascent media empire that I'd never thought of. 
I felt an immediate rush of working with someone who can take a pass from you and alley-oop it right into the hoop—and vice versa. But it wasn't just energy and skill. It was that other quality, peeking through again: soul. 
Soon we were working together. I was writing Superorganizers, and Nathan began writing Divinations, a newsletter about business strategy. We quickly settled on eventually building a bundle of newsletters creating high quality writing about business. We turned on paid subscriptions and immediately started making money: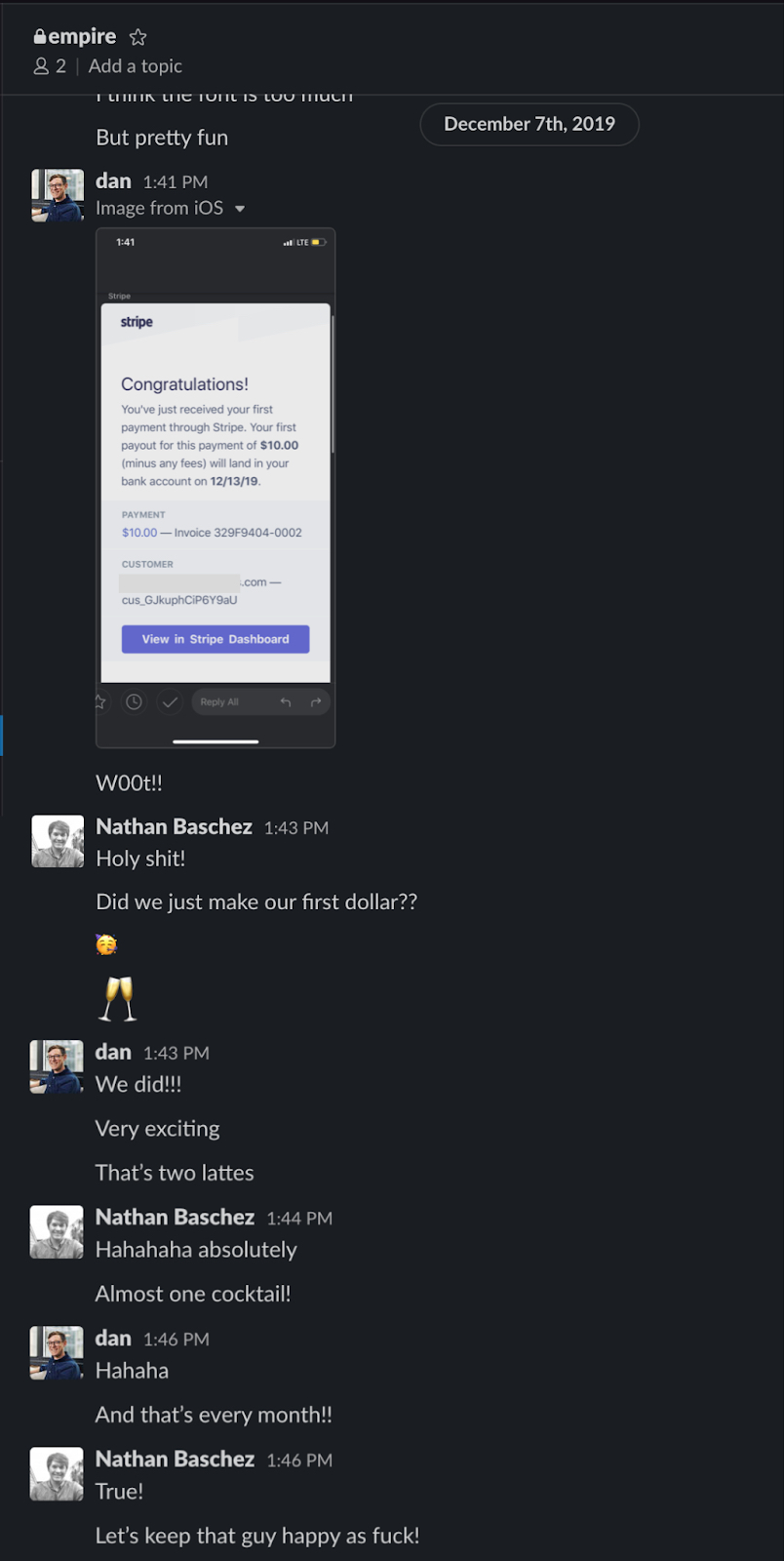 A few months in we bundled the newsletters together and almost doubled our paid list overnight. We kept adding more writers to the bundle—and we were off to the races.
At the beginning of the business, we had to make all of the usual decisions. What's the product? How is it priced? At the time, I was enamored with the idea that we might be able to have a $1,000- or $10,000-a-month newsletter. (Again, my ring-the-cash-register tendencies were showing.)
Nathan sat me down and reminded me that at our core, we actually wanted this business to be about doing great writing. We wanted to write things that were new, that were true, and that people actually wanted to read. In other words, we were building a consumer product. And therefore we had to price the product so anyone could buy it themselves. 
It was obviously the right call, and clearly something I would have missed on my own. It's the kind of thinking that perfectly blends business sense with soul. I can think of countless more moments like these. 
Companies are path dependent—how you start has a large impact on where you end up—and those small moments have added up to the texture and quality of the business we've built over time.
The next two and a half years were a blur. There were many of the highest highs I've ever had, and some of the lowest lows. It's really hard to run a media business, and we dealt with every conceivable problem (and some that are, frankly, inconceivable).
In August 2022, Nathan came to me with an idea for a new software product. He wanted to build a better version of Google Docs. He worked on it over the ensuing weeks and months, and we launched it as Lex. The response was bigger than we'd ever anticipated.
And when Lex really started to take off, it became time to sit down and think about what we both wanted and what we would maximize the chances for both businesses to succeed. 
These conversations were tortuous for both of us. Our original plan had been to launch and run software products like Lex from inside of Every. But it was soon obvious that Lex's potential might be bigger than we had anticipated before launching it. And running a venture-backable software company inside of a media company might hold it back. 
What emerged was a new vision for Every, for Lex, and for our work together. At our core, we focus on doing great business writing—and we use the ideas and the trust we build through our writing to incubate and spin out great businesses.
We're building an institution for great business writing. And that requires gathering a group of writers who are builders themselves—people who have just as much fidelity with words as they do with pixels or code. We're gathering writers who can make things like Lex—and a group of readers who are interested in using them, too.
It turns out that writing an essay is a great MVP for a course or a software product. Refining your ideas through writing and bringing them to an audience week after week is a great way to know what to build and what will resonate. When we find something promising, sometimes, we'll continue to operate that business internally at Every. But at other times, it will make sense for Every, for our writers, for our readers, and for our investors to spin it out into an entirely new business.
Lex is a proof point that Every can do that. We can chart a new path for what a media company can be, and can build. We can and will build more products like Lex—and that's really exciting.
During this process, it became clear that Lex had touched Nathan's soul in the same way that Hardbound, and Substack, and Every had previously. And when that happens, there's nothing left for him to do but put his whole self into it.
Something else also became clear during those conversations: I love the business we've built at Every. Not just because I think it's a great business—but also because it has something deep in its core that's more important to me than anything else. It's that quality that inspired me so many years ago at Wayside: it has soul. 
Over the course of this process, we realized that Nathan had found his soul. And I'd found mine.