Napkin Math
Nike: Direct Relationships & Digital Penetration
Quick review of latest earnings report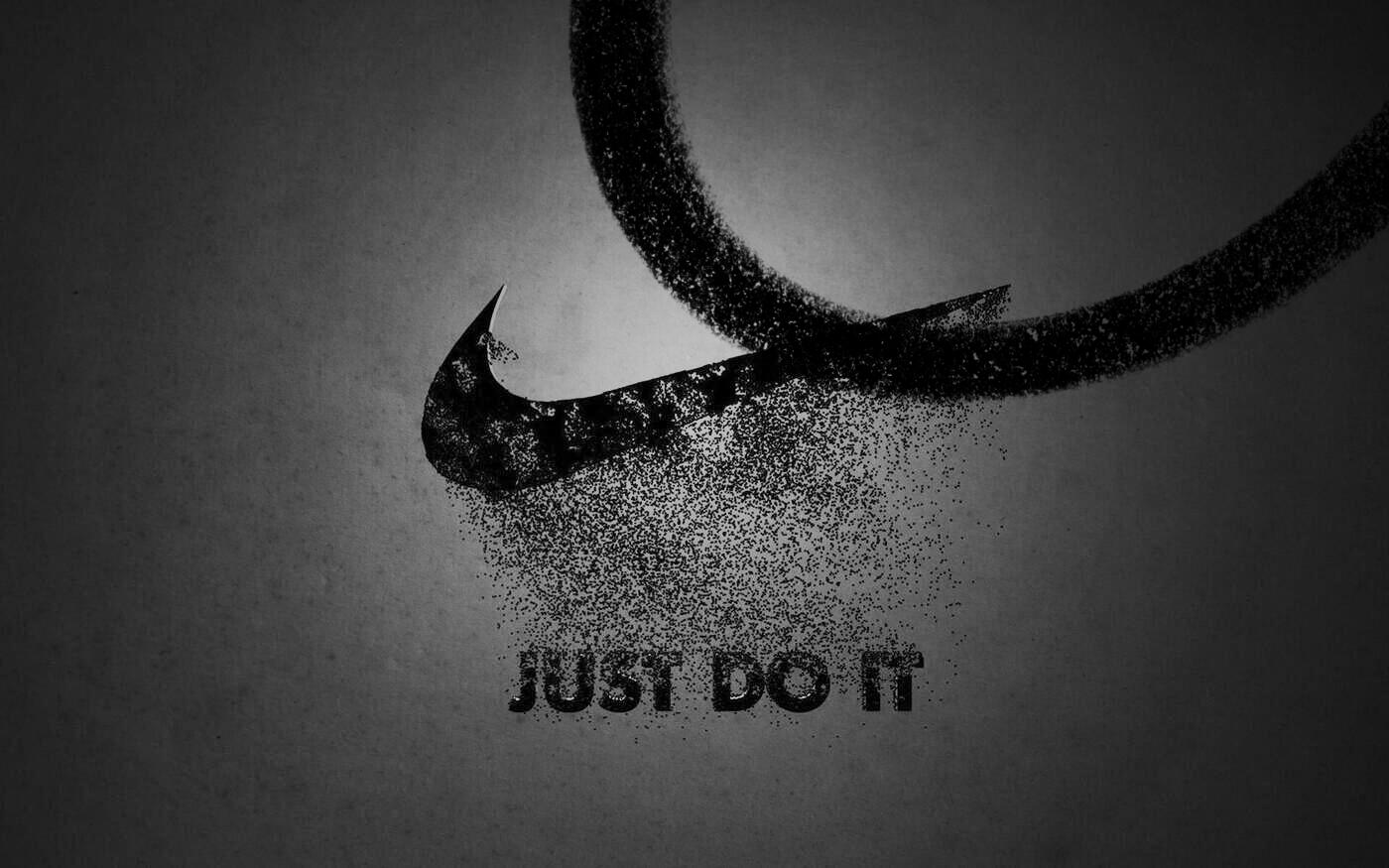 In 2017, Nike announced a corporate initiative called "Consumer Direct Offense". The idea was to invest in their direct-to-consumer capabilities. 
Leveraging the power of digital, Nike will drive growth — by accelerating innovation and product creation, moving even closer to the consumer through Key Cities, and deepening one-to-one connections.
Specifically, Nike outlined a "Triple Double Strategy"
2X Innovation: To double the cadence and impact of innovation, the Company will lead with more distinct platforms and scale innovation faster, will edit-to-amplify to give consumers better choices and will create new aesthetics spanning both sport and style;
2X Speed: To double speed to market by reducing the average product creation timeline by over 50 percent through investments in end-to-end digital capabilities to serve consumers faster; and
2X Direct: To double direct connections with consumers and shape the future of retail led by Nike.com and all new owned and partnered NIKE Consumer Experiences.
Their goal at the time was to have 30% of their business be digital by 2023. They hit that goal in 2020, three years ahead of schedule. While much of it was accelerating as Covid-19 shifted spending online, much of Nike's shift to digital came from investing in digital at the right time. 
Consider the laundry list of retail companies that declared bankruptcy in 2020: 
Brooks Brothers
Lucky Brand
G-STAR
GNC
Sur La Table
JCPenney
Neiman Marcus
J. Crew
Roots USA
True Religion
Pier 1
While Nike has a stronger brand than these companies, if you can't get your product into the hands of customers it doesn't matter. In the most recent quarter, digital sales grew 83% from the same quarter a year ago.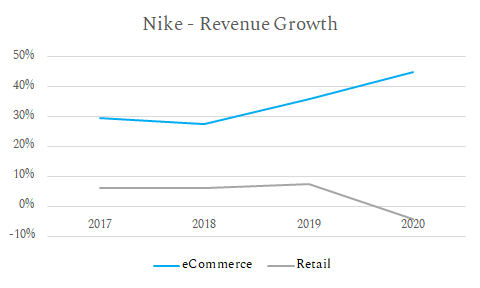 Despite that, total revenue was down 1% in the same time period — highlighting the challenges in physical retail. 
Interestingly, Nike has been pulling out of what it calls "undifferentiated retail": stores that are too broad in their target customer. One example of this is when they pulled their products out of Amazon. Ideally, Nike sells directly to their customers through their expanding retail presence or mobile apps. But the next best is through "differentiated" wholesale: retailers that match Nike's brand identity. From their Q1 2021 earnings call: 
Finally, as we cut purchase orders to recalibrate supply and demand in North America during the first half in fiscal '21, we shifted product allocations to fuel higher demand in NIKE Digital and our smaller group of strategic wholesale partners. The result was high single-digit growth in differentiated wholesale, offset by a decline of over 20% in undifferentiated wholesale, all with a higher full price realization versus the prior year.
Marketing + Brand
For years, Nike was known mostly for their exceptional marketing. They still are. One thing that's great about them is they are an aspirational brand, not just a silly or funny one. In the long run, this makes a big difference. 
https://twitter.com/web/status/1118923648432259079
However, it's not just the branding that keeps people coming, but also additional touchpoints. Nike has ample opportunities for tracking, comparing and coaching with the current state of technology. Here is a list of their digital apps and services:
Nike Membership - a free membership that gives access to benefits like free shipping, rewards & promotions, and access to the rest of their apps. 
Nike App - eCommerce access to the Nike store. Demand on the Nike App grew 150% in Q1 2021 (Jul-Sep) and now over 30% of Nike's revenue come from their mobile app. 
Nike Training Club - an app with on-demand digital workouts. Users more than tripled in April, peaking at 5 million users. 
Nike Run Club - an audio app that provides guided runs and motivation. As of September 2020, they had four consecutive months of more than 1 million downloads each month. 
SNKRS - Nike Sneakers product release date and launch calendar. 
And while these touch points seem like nice-to-haves on their own, the data shows that the LTV of a customer is 4x if they connect with Nike on two or more platforms.
And of course, we remain focused on increasing member engagement to unlock value for both NIKE and our consumers. After all, we know a consumer who connects with us on two or more platforms has a lifetime value that's 4 times higher than those who don't. [Emphasis mine]
As a side note, this data also confirms what I was thinking about when Lululemon purchased home fitness startup from Mirror earlier this year:
What if we view the Mirror acquisition not just as the projected future cash flows of the business plus synergies with lululemon, but rather as a call option on the possibility that gyms don't return to normal for a couple years? 
We are entering the golden age for home gym equipment. Enthusiasm for fitness is at an all-time high, but gyms are closed. Mirror fills the gap: an exciting fitness option inside your home. 
Similarly for Nike, both the high-level branding and the individual touch points are valuable to their mission of connecting with customers. I particularly like Rocco Carzo's framing of of their strategy as having both "strong" and "weak" links:
https://twitter.com/rcarzo/status/1304926132173762560
Overall, Nike still has a long way to go. Their stock price popped because they beat their estimates (both top and bottom line) and it's now trading at 75.4x LTM P/E which is significantly higher than their peer group. However, their investments in the consumer relationship have the potential for high payoff as that is what will win in the long run.
How did you feel about this post?