Chain of Thought
The Most Important WWDC Announcement That You
M

issed

Apple has a shot at solving the mental health crisis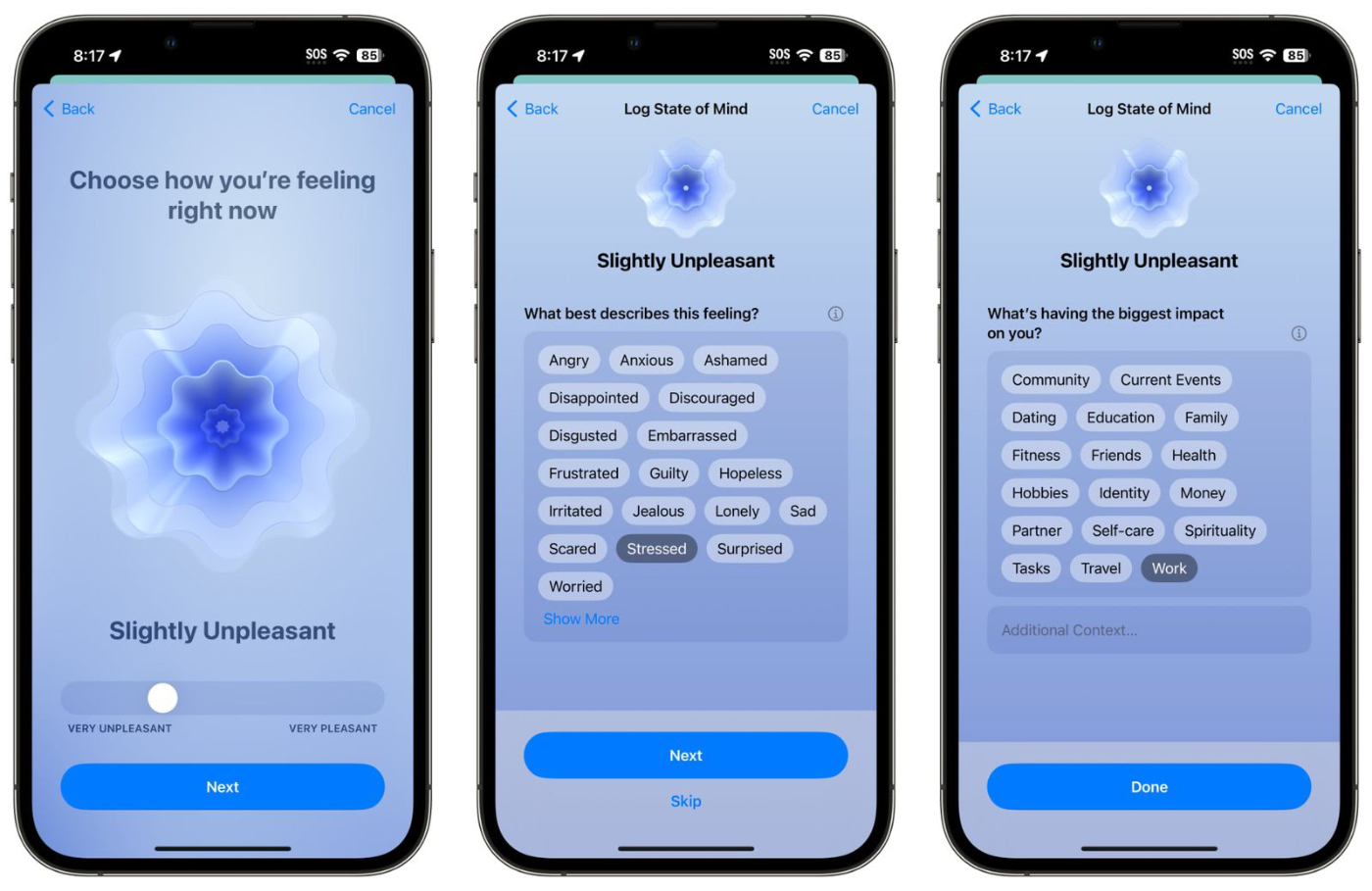 Sponsor Every
Want to reach AI early-adopters? Every is the premier place for 80,000+ founders, operators, and investors to read about business, AI, and personal development.
We're currently accepting sponsors for Q3! If you're interested in reaching our audience, learn more:
Let's say you're the biggest and most successful company in the world. You need to keep growing at an incredible rate—and you'd also like to have a positive impact on mankind. What kind of opportunities do you go after?
Well, for one you probably build a face computer. But you might also try to solve the mental health crisis in America. And I think that's what Apple's attempting.
In 2022, 19% of adults—about 50 million Americans—experienced a mental illness like anxiety or depression. Anxiety and depression alone cost the economy an estimated $1 trillion every year. That is a huge problem and a huge economic opportunity.
On a human level, mental health issues are also a real bitch to deal with. I'm a relatively well-off individual with a fake job and an open mind. It still took me many years—literally years of work—to get an accurate diagnosis and to get into the right treatment. And I was really trying my hardest! I was reading books, using apps, trying therapists, testing meds, and spending more money than I care to count. If therapy wasn't a totally private HIPAA-regulated institution I'm pretty sure my clinicians would be building statues to commemorate my largesse. (If any of my former doctors want to do this hmu.)
So, I'm an experienced realist who is very invested in this topic. And as one, let me say: 
I think Apple is going after mental health in a big way. What they announced this week at the WWDC—a mood tracker, a mental health trend report, and psychological assessments you can take from your phone—is both a masterful business move and has a real shot at eventually solving the mental health crisis in America. 
These changes might look incremental on the surface but they ladder up into something disruptive. They allow for Apple to create a massive dataset of mental health data that can be combined with machine learning to better assess, diagnose, and treat psychological issues and increase human flourishing. It could be a paradigm shift in how scientific research is done that affects every part of the mental health system.
I recognize this is a bold claim—but let me show you why I'm convinced Apple could help solve many mental health problems in America. We'll talk about what they announced, what it means for today, and how it impacts the future.
Apple is getting into the mood
Apple announced four things at WWDC: a journaling app, a mood tracker, a mental health trend report, and a psychological assessment tool. Each of these four things is a valuable incremental step on its own—but layered together they lay the groundwork for something special.
A journaling app—they're killing the million-and-one iPhone journaling apps and replacing them with a native iOS version. It will use machine learning to turn photos, phone calls, messages and more into journal prompts. This will let you easily record moments in your life, with minimum effort—and with end-to-end encryption.
A mood tracker—you can now track your emotions in the Health app on your phone and your Apple Watch. The tracker lets you quickly record a few things about your emotional state: 
The valence from very pleasant to very unpleasant
The emotions like sad, happy, anxious, and more
Associations with what's going on in your life like seeing family or going through a breakup.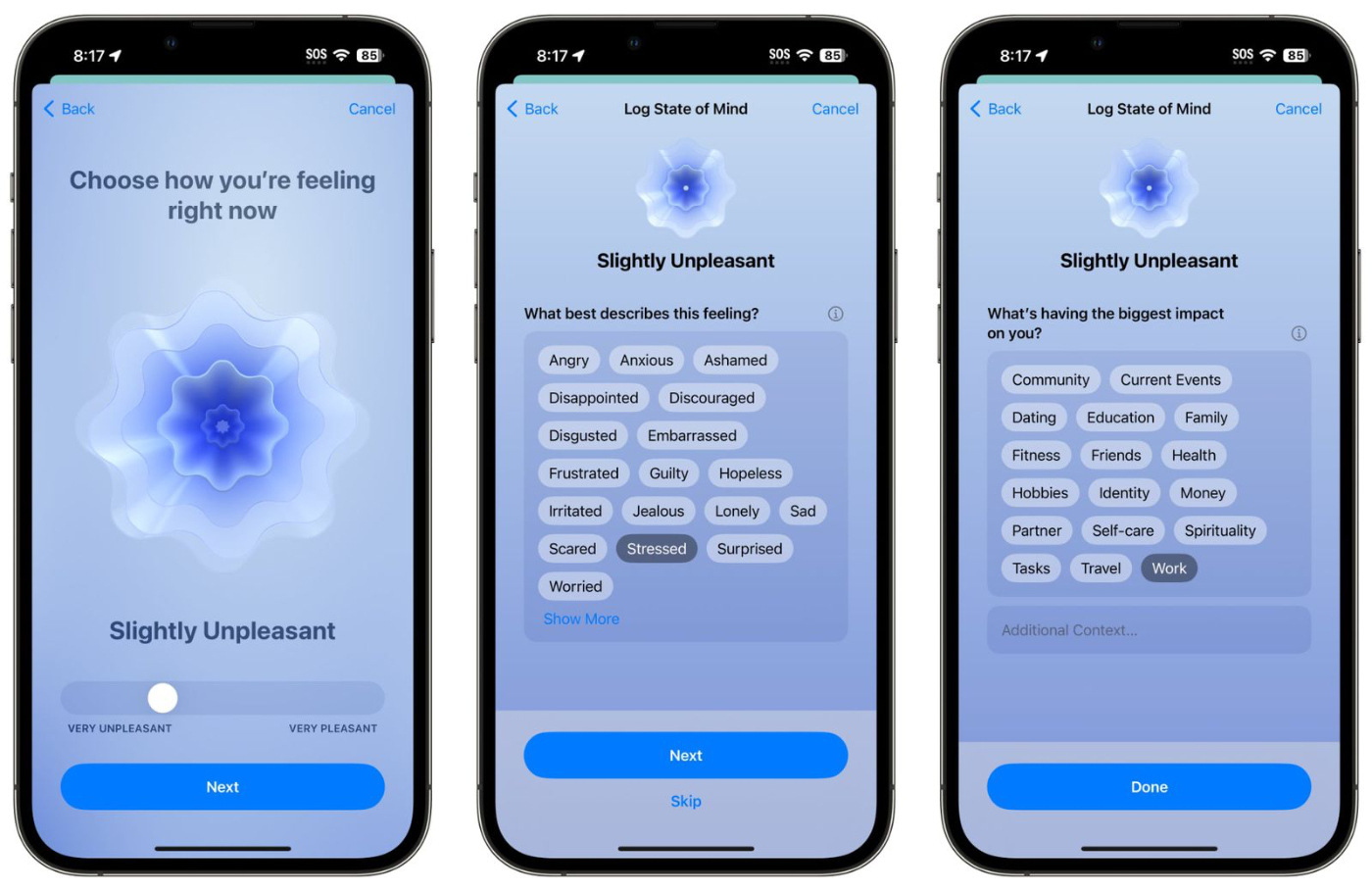 A mood tracker like this promises to increase your well-being and help you to regulate negative emotions. Research shows that just being able to name your emotions can help you regulate them better. Anyone who has learned to "defuse" from their emotions with labeling can tell you the same thing. And that's exactly what this mood tracker is designed to do.
A trend report—if you're using the mood tracker frequently, Apple's Health app will also let you see a trend report showing your emotions over time and helping you to see what most impacts your state. You'll be able to see quantitatively what's associated with positive states like happiness and focus, and what's making you feel like dogshit: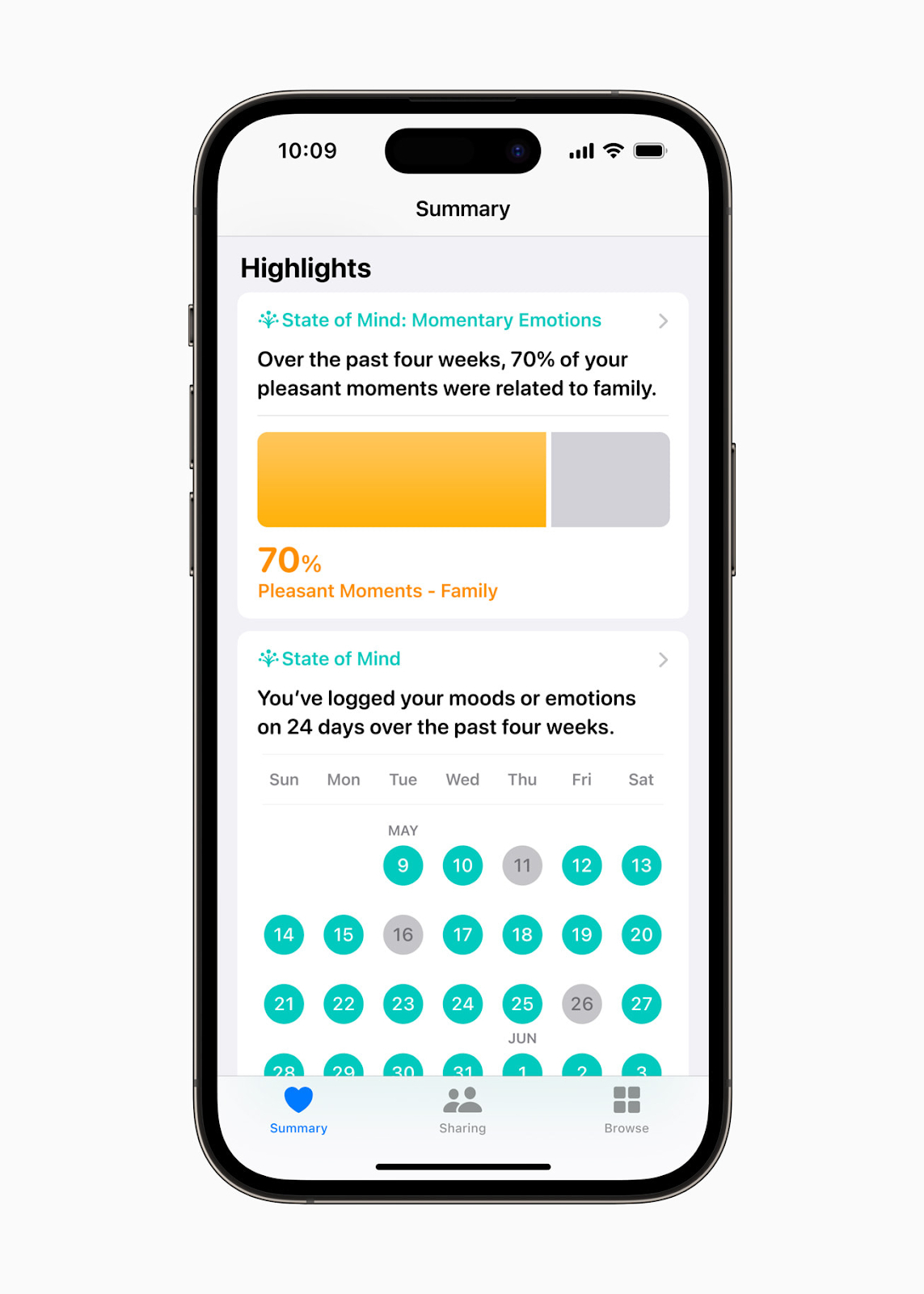 That might seem basic, but it's surprising how little insight we usually have into these things. We're often driven by what we think
should
make us feel good rather than what actually does. Getting a data-driven readout could help you make basic realizations—like
I hate my job
or
I'm happiest when I'm coding
or
running really does help me focus
—that you probably knew on some level but you previously couldn't admit to yourself.
Psychological assessments—if you want, you'll also be able to take standard psychological assessments for anxiety and depression right on your iPhone. These will help you tell whether or not your feelings are in a range where seeing a clinician might be warranted. If it is, the app can help connect to a doctor—and even generate a report to show them what's going on. 
This is incredibly helpful for diagnosis and assessment (two of the biggest issues in clinical psychology). And it will help people get into effective treatment, faster. 
So what? You might be thinking. These all seem great—but they're incremental advances. Is this really going to solve the mental health crisis?
These advances might be small now, but as we discussed in Every yesterday, Apple tends to hide its secrets in plain sight. They're good at building separate components that eventually come together into something huge—and I think that's exactly what they're doing with these features. 
Apple could replace psychology with machine learning
If you're Apple, and you want to make a dent in mental health how do you do it? 
What you have to do is take an intractable scientific problem—what causes anxiety and depression?—and turned it into a tractable engineering problem: how do we predict who's going to get it, who has it, and what will work for them to make it better?
This was never possible until recently.
For most of the history of Western medicine, if you wanted to treat an illness like anxiety or depression you had to do science on it. You needed to understand the why of something before you could change it.
You'd first try to come up with an explanation for what causes these conditions. For example, maybe anxiety is caused by eating too many carbs. You'd do a randomized controlled trial where you tell a few stressed undergrads to stop eating pasta and measure the results against other undergrads who are eating as normal. 
In the end, your results would probably be mixed. You'd say something like, "It looks promising, but merits further study." You'd try to get more funding for a bigger pasta study. You'd add another grain of sand on top of a shaky pile of studies in clinical psychology that never seem to make much progress and always seem to get inconclusive results.
You could do that. Or you could be Apple. A company with a trillion-dollar market cap and a billion people using their phones worldwide. 
This gives you advantages: towering heaps of cash, unfathomable lakes of data, and—if their launch of the Vision Pro taught us anything— access to some of the best talent in AI and machine learning in the world. This could allow Apple to skip the why of mental illness and go straight to the how of solving it. Instead of doing a single small-scale study, they could replace psychology with machine learning. 
If Apple wanted to take advantage of this, here's how they'd do it:
They'd create a massive dataset of biometric data, mood states, and anxiety and depression scores. Then they'd use AI and machine learning to predict them. They'd train algorithms that can predict who might eventually be diagnosed with an issue, can measure it when they do, can predict which treatments might work best, can connect them to clinicians, and even deliver basic interventions in certain cases.
If you wanted to start on a path to making this a reality, you'd launch exactly the things that Apple just launched at the WWDC. For one, the features they launched already encourage users to record their mood states and use machine learning to help make associations to events in their lives and their biometric data. Users can also subsequently take psychological assessments on their phones—and though Apple hasn't said this—presumably they'll be able to associate that assessment with the mood states that have been recorded, and with their biometric data.
That's where things start to get interesting. Let's be honest: only a small minority of people are going to spend a ton of time tracking their emotions. And only people who suspect they have a serious problem are likely to take an anxiety or depression assessment. But, that doesn't necessarily matter to Apple. 
Even the small fraction of total iPhone users who use these features could easily number in the millions. This is huge compared to the average clinical study in psychology. And Apple should be able to take the subset of people who are using these features and use it to make predictions about the rest of iPhone users.
It doesn't stop there. We already know that the Vision Pro will add significantly to Apple's ability to predict mental states from biometric data. For example, Sterling Crispin a researcher who worked on neurotechnology on the Vision Pro wrote on Twitter:
"A lot of the work I did involved detecting the mental state of users based on data from their body and brain when they were in immersive experiences…[Our] AI models are trying to predict if you are feeling curious, mind wandering, scared, paying attention, remembering a past experience, or some other cognitive state. And these may be inferred through measurements like eye tracking, electrical activity in the brain, heartbeats and rhythms, muscle activity, blood density in the brain, blood pressure, skin conductance."
These types of predictions are incredibly important for creating immersive experiences. But they're also important if you want to learn how to predict, assess, and intervene in mental health conditions. 
And the best part is: the predictions they make can be personalized based on what is most likely to work for you—rather than having to fit a simple formula or set of rules. In this way, they'll be taking the machine learning principles that technology companies have developed over many years to get users to click ads—and instead use them to increase human flourishing. And I think that's Apple's aim.
In 2019, Apple CEO Tim Cook went on Jim Cramer's show to talk about their—at the time—falling stock price. His goal was to make the bull case for Apple's future. As we covered previously in Every, the punchline of his pitch was surprising:
"If you zoom out into the future, and you look back, and ask the question, 'What was Apple's greatest contribution to mankind?' It will be about health." 
At the time he said this, I think many people assumed he was talking about physical health. I think now, it's clear, that he was also talking about mental health. 
I think Apple can make a huge dent here in ways that have never been possible before. And if they do, it could be both a generational business opportunity and a huge gift to humankind.