Superorganizers
How to Win the Great British Bake Off
Peter Sawkins Sits Down to Discuss Framing, Faith, and Finding His Path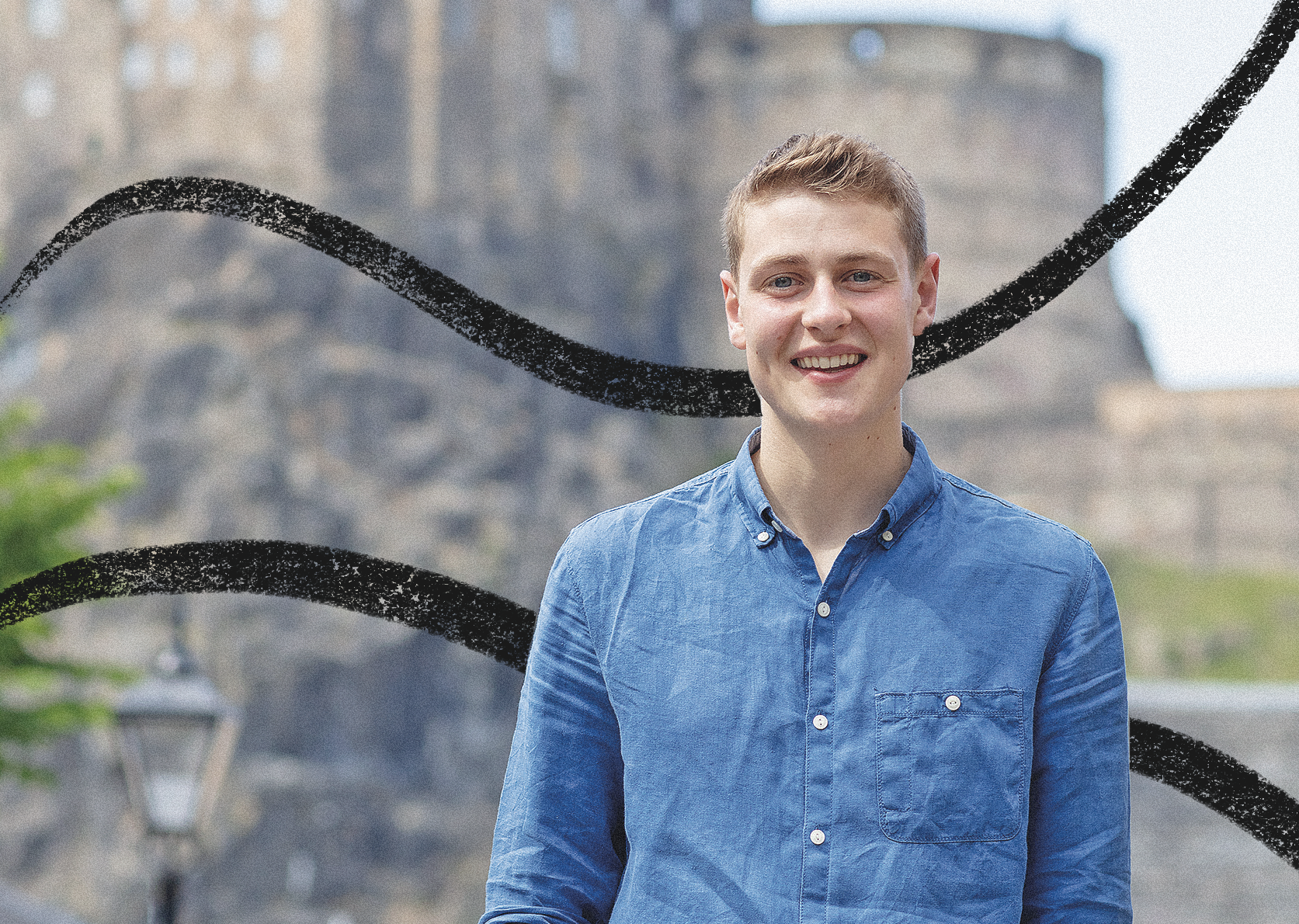 If, like me, you're a hardcore fan of The Great British Bake Off, I already know a few things about you.
You probably know the difference between a Swiss meringue and an Italian one.
You've more than likely shed a tear—openly wept, even—at the disasters, departures, triumphs, and trifles of the show's contestants.
You understand that properly-made choux pastry should fall off the spatula in a 'V' shape.
You know that the 'Hollywood Handshake' is basically BS… but it's still cool to get one…
And without a doubt you grasp that you should never, ever, ever stir a caramel-in-progress—unless you want to suffer the unbearable public shame and psychic agony of the dreaded crystallization.
If you are a fan like that—like me—you know exactly who Peter Sawkins is.
If you're not a Bake Off fan (due to your intolerance of gluten, lactose, or heart-warming British reality baking competition shows) here's why you should:
A little over a year ago, Peter Sawkins underwent a head-spinning, earth-shaking personal transition when, at the age of 20, he became the youngest-ever winner of The Great British Bake Off.
The moment the University of Edinburgh accounting student, sportsman, and home baker was awarded the title, instant fame dropped into his lap.
Peter was transformed overnight into a full-fledged culinary businessman—TV star, media darling, baking icon, and instant worldwide social media celebrity. On top of that, he got a deal to write a cookbook—and he had just four months to write it.
Four months. While doing a full-time university semester, heading his school's competition badminton team, taking on new media opportunities, remaining actively connected to friends and family, and using his social media presence to lend his hearty support to several of his favorite charities. 
Oh, yes—and he ran a marathon, too.
I wanted to know how he could possibly have weathered the intensity of the last year and managed to accomplish all of that—without crashing, burning out, collapsing the metaphorical joconde sponge that is his life, or at the very least losing his taste for buttercream frosting forever. 
When I sat down to talk to Peter about this, what I found was a remarkably calm and humble guy. He was forthright when it came to talking about issues like mental health, the role of faith and reflection in his life, and his deep sense of duty. And he was refreshingly honest about how he strives to positively frame the challenges of planning his days and shaping the rest of his life.
Looking back on his last year, Peter told me that he felt like he was prepared to take all those challenges on, but it hasn't been <ahem> a piece of cake.
Let's see how he did it.
Peter introduces himself.
My name is Peter Sawkins. I'm a 21-year-old accounting student at The University of Edinburgh, and a keen competitive badminton player. I'm also a passionate amateur baker—I started out baking when I was 5.
In late 2020, I won The Great British Bake Off, and as a result of that, baking has essentially become my job. My first cookbook, Peter Bakes, was published this past fall.
I keep a notebook to track my daily tasks.
When it comes to how I keep myself organized, I'm a pretty analog kind of person. I keep two paper notebooks: a daily task notebook, and a wee red one for things that inspire me.
My daily task notebook is where I write down the things I need to do on any given day. I scribble them down on the page, and then I can just work through the list and score things off as I complete them. And if I don't get through them that day, that's fine—I'll write them into the next day.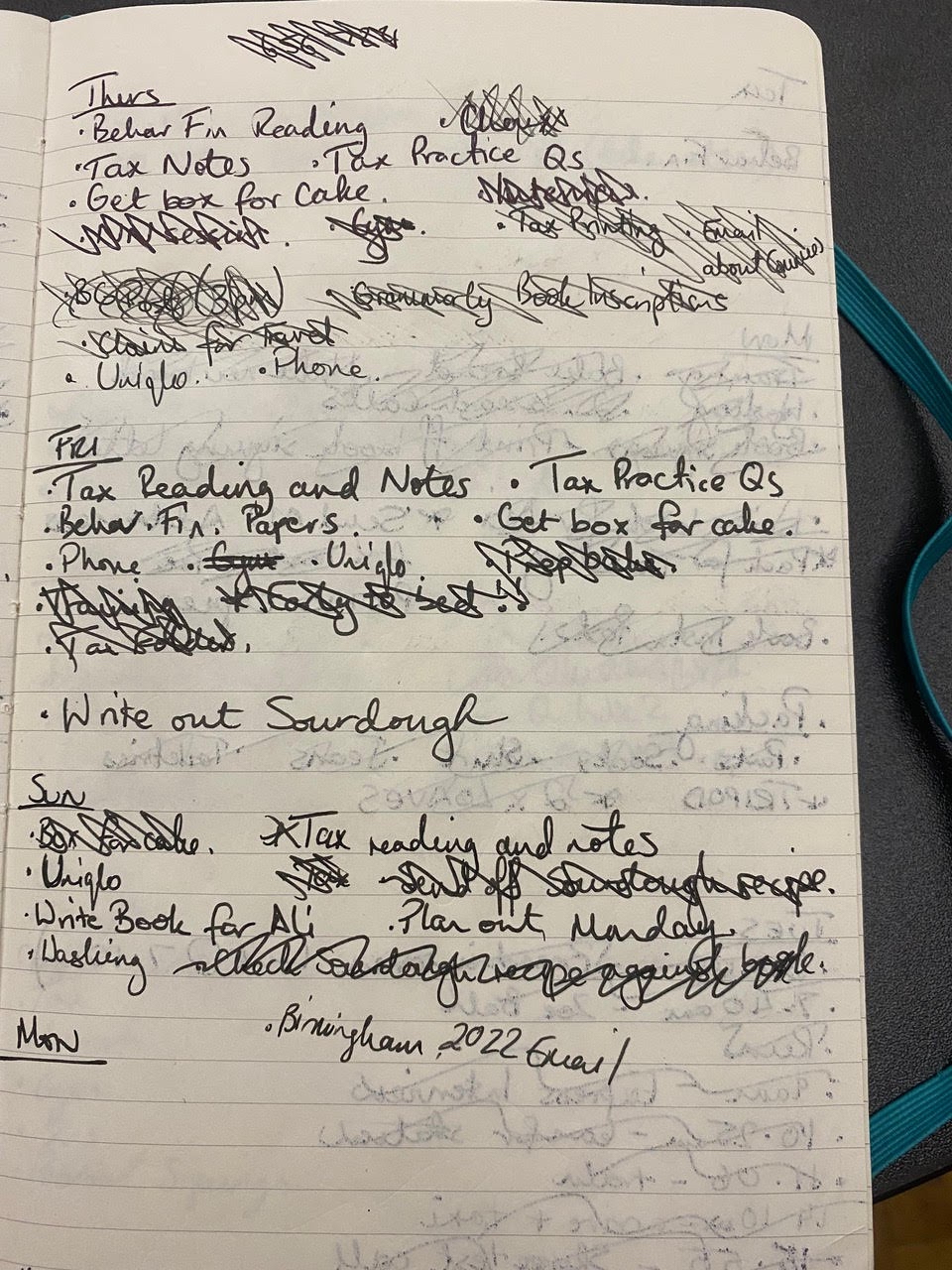 I keep daily tasks in the front of the book. At the back, I write down the bigger stuff—things that take a bit longer. It might be a book idea, or a reminder to do my tax return, or topic ideas for the dissertation I have to write next year.