Means of Creation
Passion Economy News #5: The Prop 22 Debate, Substack's Mentorship Program, OnZoom's Event Discovery Push, Business Insider's potential Morning Brew Acquisition, and More
Read to the end for how women face unique challenges in the passion economy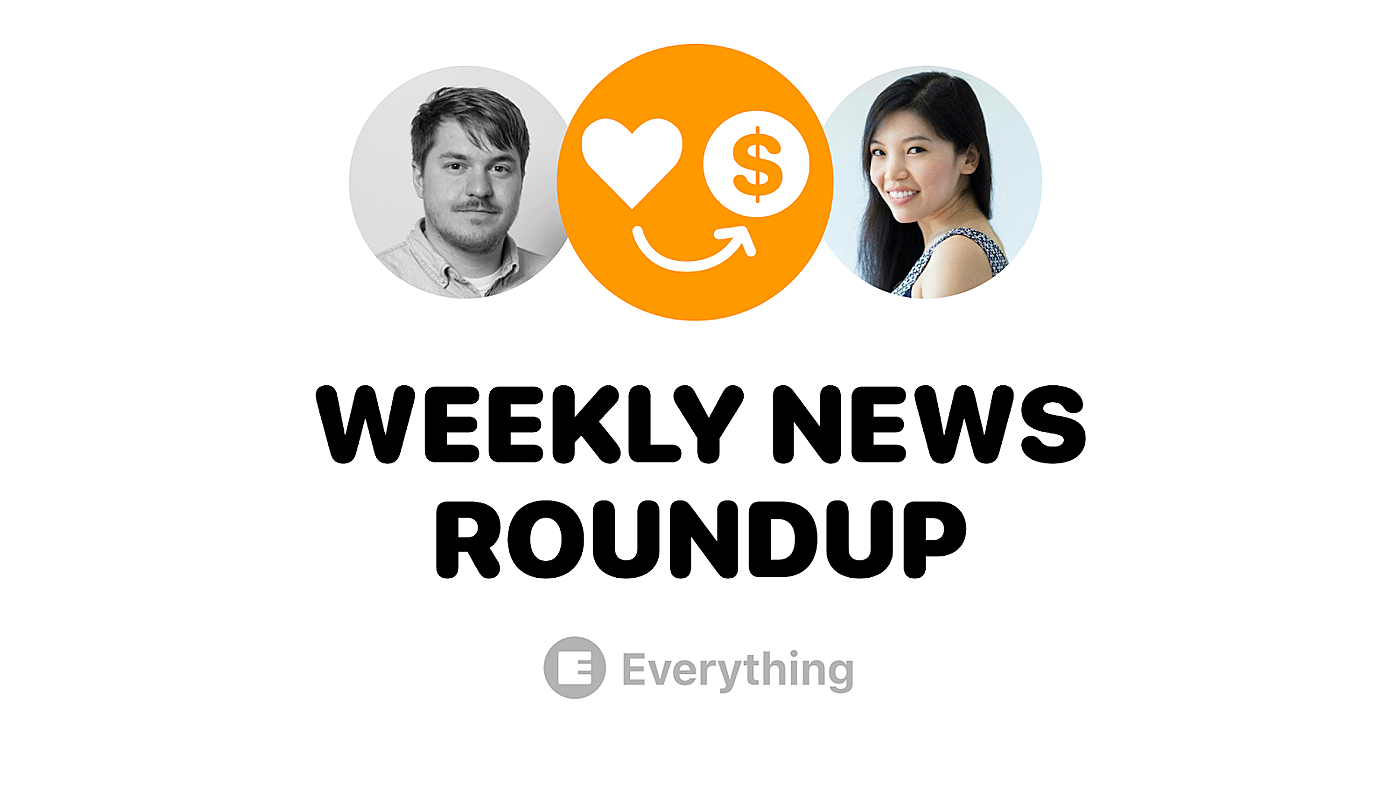 Welcome to Issue #5 of the Means of Creation weekly news roundup where we break down the latest news on the passion economy, including the happenings related to platforms, creators, startups, and trends.
The Weekly News Roundup is now for premium members only! Our goal is to make this the most helpful resource for founders, investors and creators in the passion economy.
Stuff We Published
This week, we published our latest episode of Means of Creation with Casey Newton, founder and author of Platformer. Casey has been one of the leading journalists in Silicon Valley for over a decade. Last month, Casey announced that he was leaving The Verge to start his own media company and subscription email newsletter called Platformer, a publication at the intersection of social media platforms and democracy.  
Find it as a podcast on Apple Podcasts, Spotify, Overcast, Breaker or wherever you listen to podcasts, or as a video on YouTube here. As always, you can view more episodes and subscribe to the Means of Creation YouTube Channel.
Substack Rankings
This edition compares Oct 13 to Oct 20.
Bulwark+, a political newsletter claiming non-partisanship, continues it's rise now increasing 2 spots from 5th to 3rd
Everything, the newsletter you are reading :), moved up 3 spots from 12th to 9th after adding Nat Eliason's Almanack to the bundle.
Top of Mind
"CHICKENIZATION" IN THE GIG ECONOMY 
Opinion | California, Reject Prop 22 // The Editorial Board, NYT
The recent debate over Prop 22 in California serves as a great illustrator of the differences between the passion economy and the gig economy. In the gig economy, every worker is doing commoditized work at the direction of the tech platforms, which control their pricing, customers they connect to, and what they're doing each minute. In contrast, in the passion economy, workers are using platforms and software tools as a means to build their own creative offering.  
Prop 22 was funded by platforms like Uber and Lyft, which position themselves as neutral, technology-based intermediaries. This is because classifying drivers as independent contractors and not employees is less costly to those companies. As contractors, the workers are not entitled to protections and benefits of employees, like paid time off, minimum wage, and overtime pay. 
This reminds us of "chickenization" in labor economics, which describes how a handful of poultry powerhouses exert control over chicken farmers who have little to no say when it comes to running their operations.
Oligopolistic seed companies use data asymmetries and their control over the value chain to exert disproportional control over so called "independent" contractors. Sound familiar to today's gig economy companies? 
In many ways, this approach seems to be the exact opposite of the good jobs thesis some companies such as Managed by Q are adopting. Their attempt to reinstill meaning and value to arbitrarily treated gig-economy workers might serve as a framework for the future. 
Related Read: https://pluralistic.net/2020/07/29/break-em-up/#break-em-up
ZOOM'S EVENT DISCOVERY PUSH
Zoom just royally screwed every event platform out there  // Paul Armstrong, Forbes
OnZoom is Zoom's attempt to position itself as a discovery marketplace for live online events. But to me (Nathan), this article is pretty hyperbolic. It adopts the tone of articles written about the vast influence that giants like Apple and Amazon wield, and applies it to Zoom in a way that feels fairly disconnected from reality to me. Like, they have not "screwed" Eventbrite and I seriously doubt their platform will even be a success. And also, since when is launching a competing product "screwing" somebody? In my view launching new products is a normal part of life, not a betrayal.
With tech behemoth Amazon launching Amazon Explore and Airbnb pivoting to a virtual version of its Airbnb Experiences, it's logical for Zoom to use its wide user footprint to tap into the burgeoning virtual experience economy. 
Zoom plans to use its user-friendly video conferencing interface to expand into diverse passion economy niches that have gained momentum due to the pandemic. It may offer a clean and simple tool for creators to monetize their offerings. 
In what appears to be an aggressive customer acquisition strategy, Zoom will not take a percent fee from ticket sales, at least for this year. In 2021, they plan to re-assess this approach. 
OnZoom may also prove to be a great channel for newsletter reader acquisition and community building, since it enables the ability to host virtual reader-meetups to attract new paid subscribers. We even applied here at Means of Creation — mostly out of curiosity. 
Related Read: Luma, a virtual events platform, launches paid memberships for creators to offer special events and content: https://blog.lu.ma/membership/
SUBSTACK LAUNCHES A MENTORSHIP PROGRAM
Introducing Substack Bridge.  // Substack 
Substack announced a writer mentorship program that connects emerging writers to more established ones. Through an 8-week guided mentorship program, writers will exchange strategies around creative processes, community building and monetization. 
"Substack Bridge is designed to support emerging writers as they settle into their domains and grow an audience on Substack." 
Casey Newton played a part in the creation of this mentorship program, as we discussed in our interview with him on the Means of Creation show (see 32:09)—he recognized that the paid newsletter industry is not as diverse as it can be, and pitched the idea of the mentorship program to Substack as part of his deal. 
Mentors include some well-established names: Casey Newton, Delia Cai, Richard Rushfield and more. In a way, this mentorship program is reminiscent of the support structure that exists inside traditional media companies. Legacy media outlets have leveraged the network effects of upcoming and established writers through collaboration and mentorship internally. It is also reminiscent of an old-school strategy record labels have used in the music business. 
Substack Bridge promotes aspiration 
Aspiration is one of the central narratives that drives the success of passion economy platforms; promoting a rhetoric of "You can monetize your passion!" is integral to their outward push. In Substack's case, the mentorship program is a smart way to drive writer acquisition in the short-term and reader acquisition in the medium to long-term. It probably also encourages writers to increase their cadence. 
BUSINESS INSIDER'S POTENTIAL ACQUISITION OF MORNING BREW 
Business Insider buys Morning Brew: Sources // Peter Kafka, Vox
If you're a frequent Means of Creation reader, you know we love geeking out about the newsletter space in particular. Morning Brew's potential acquisition by Business Insider is illustrative of the power of D2C trust in a world of algorithmic ubiquity and platform mistrust.
An integral part of successful newsletter ecosystems is their ability to scale trust and intimacy. Morning Brew is by no means a small newsletter. With 2 million subscribers and 50 employees, it is more akin to a lean but full-fledged media company. But what they have managed to do really well is to build and maintain readership trust and community at scale. 
Business Insider on the other hand has been trying to pivot to a subscription based model. Transitioning towards well-informed, analytical reporting rather than the clickable, ad-revenue driving content that has largely driven its growth. 
Reports state that Morning Brew could be valued at $50 million to $75 million. It may just be the perfect acquisition for Business Insider's parent company Axel Springer SE given how the pandemic has affected ad-revenue based business models. 
Related Read: Business Insider Parent Nears Deal to Buy Controlling Stake in Morning Brew // Benjamin Mullin, WSJ
ICYMI
Creator Burnout in the Passion Economy 
Hitting Pause // Venkatesh Rao, Breaking Smart  
With great autonomy comes greater accountability. Venkatesh Rao of Breaking Smart writes about using Substack's recently introduced pause feature to counteract creator burnout. 
Creator Burnout is an overlooked issue in the passion economy. As more independent creators create their own micro-ventures, they accrue greater amounts of responsibility towards themselves. Subscribers expect tangible value for their money, and handling these expectations can be mentally taxing. 
For example — running a Substack newsletter entails not only handling the writing and editing; but also publishing and marketing. Not to mention other "reader relationship management" strategies such as exclusive Slack communities for paid subscribers, reader meetups, and podcasts.
What Podcasters Should Know About the Spotify x Anchor Integration
Introducing a brand new way to create in Anchor, with all the music you love  // Medium 
Recently Spotify has been trying to reduce its reliance on licenses from the major labels. By making a strong push into creating its own IP, they are moving from a music platform to an audio platform. Recent content acquisition deals such as the one with Joe Rogan reinforce this trend. Their latest integration with acquired company Anchor let's podcasters use any song from the entire licensed catalog on Spotify in their podcasts, mixing spoken word and music to create engaging derivatives of audio content.
Even though the integration makes procuring audio convenient for podcasters, there is a lot of ambiguity around the copyrights involved. This move undercuts the traditional process of obtaining master-use and synchronization licenses from artists and songwriters respectively. Also, what's to stop users from uploading an entire album as a podcast and monetizing it through Anchor?
The integration has caused quite a stir in the music industry. How this unfolds legally will be interesting to follow in the coming weeks. 
Related read: Spotify's new format puts music in podcasts – and pays royalties // MusicAlly
Is the Passion Economy Gender Inclusive?
A grossly under-reported fact: 865,000 women left the workforce last month. This fact (and it's under-reporting) bring up some key questions: do countries with a stronger social safety net promote independent creator ecosystems? If women don't even have the ability to work because of other obligations like childcare, it's obviously more challenging to be entrepreneurial and to participate in the passion economy. 
On the other hand, perhaps the passion economy is a more flexible work option compared to traditional employment and can serve as an accessible way for women to earn income flexibility on their own terms. For instance, teachers on Outschool, a marketplace for K-12 education, are predominantly female, as are teachers on VIPKid, an English learning platform that connects native English speakers with Chinese kids. 
Related read: The pandemic is threatening to erase women's progress // Kathryn Vasel, CNN 
Imitation or differentiation?
Snapchat launches its TikTok rival, Sounds on Snapchat // Sarah Perez, Techcrunch
Snapchat launched a feature named Sounds on Snapchat which lets users pair their Snaps with a licensed library of songs. It seems like every platform is trying to ride the short-form content wave, and fill the large vacuum that TikTok has left in countries such as India. 
The differentiating feature is supposed to be the ability to swipe up to see the album artwork and share that song on Spotify, Apple Music or Soundcloud. However, on closer scrutiny this feature already exists on TikTok, in countries where Bytedance has launched its own music streaming service Resso. 
Google's Journalist Studio
Google launches a suite of tech-powered tools for reporters, Journalist Studio // Sarah Perez & Anthony Ha, TechCrunch
Independent reporting often means journalists are scraping data without some of the investigative resources deep-pocketed media houses offer. (underpaid interns for example) 
Google's new set of tools, Journalist Studio, gives journalists analytical tools that help them collect and analyze data in an accessible manner. This may entail more data-backed and well substantiated research in an age of misinformation.
Passion Economy Financings:
Stir raised $4 million in seed funding to help creators on new online platforms share data and split revenue. Stir raised from Homebrew, Ludlow Ventures and XYZ Capital and had participation from the CEOs of Patreon, Cameo, Brex and Anchor, YouTube personality Casey Neistat and our very own Li Jin. There have been collaborations in the past (joining another creator's podcast, for example) but no good tools to split revenue. This is the problem Stir is aiming to solve.
Zora raised a $2M Series A to build a crypto-driven creator marketplace, led by Kindred Ventures with participation from Trevor McFedries of Brud, Alice Lloyd George, Jeff Staple, Coinbase Ventures and others. With Zora, a community is issued a token that can appreciate in value alongside the community. The creators earn money on transaction fees in addition to token appreciation. More here.