Free Radicals
K

im

R

oxie: What

I

don't know is the future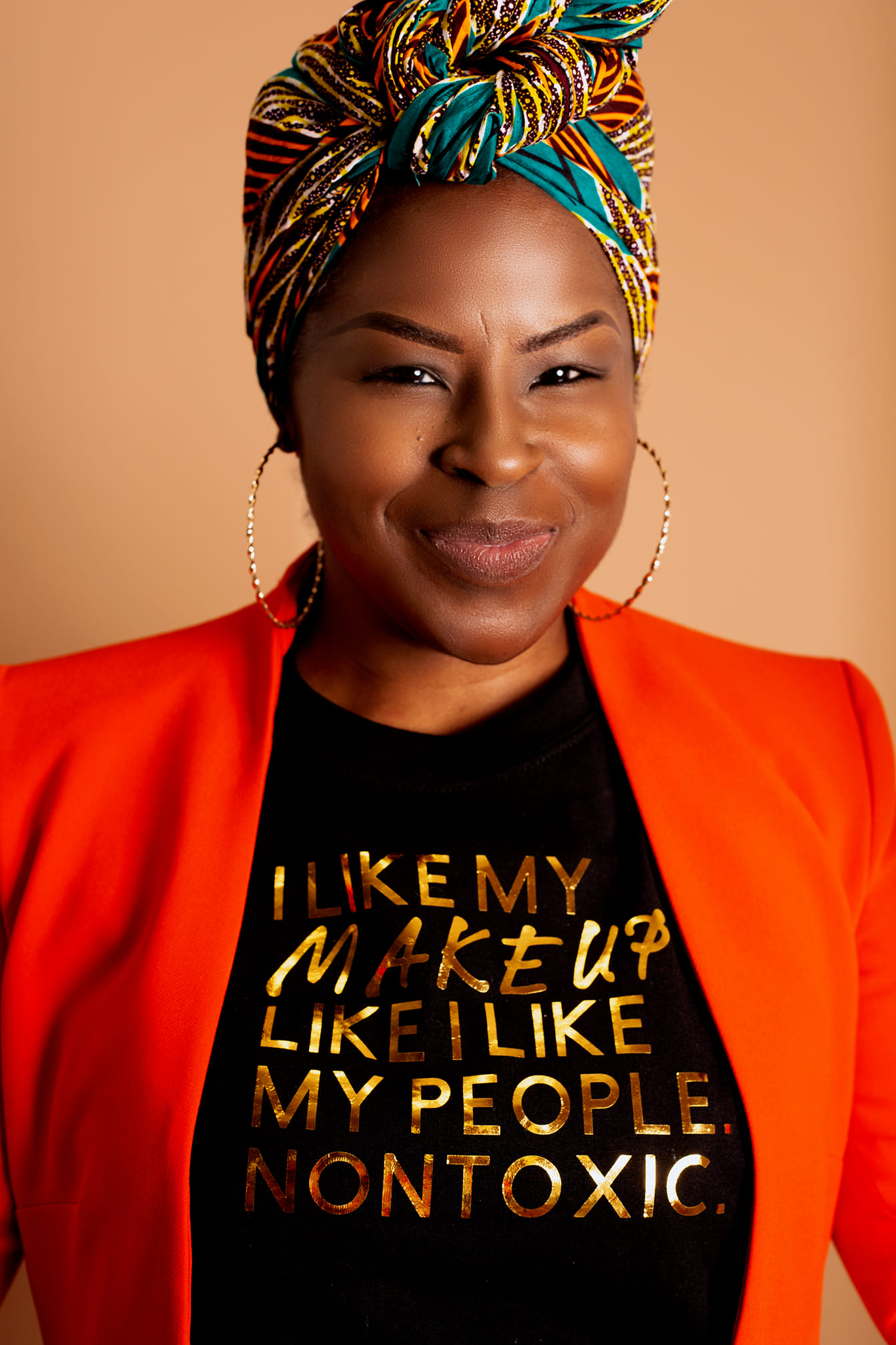 Kim Roxie started her first business when she was just 21. Working at beauty counters as a college student in Atlanta, she noticed that women of color were not being served by the makeup industry. Very few beauty companies were making products for darker skin tones, and there was—and remains—a huge gap in the industry when it comes to natural and organic ingredients. She researched the cosmetics industry, came up with a line of products that spoke to the community she wanted to serve, and then opened a store in a mall in Houston, her hometown. LAMIK Beauty became a cornerstone of the small business community in Houston, and Roxie became a successful business owner who regularly graced 40 under 40 lists and hosted fundraisers for local non-profits.
And then she heard the entrepreneur's calling again. 
LAMIK, and the community that Roxie built around the store and the products she developed, resonated with women so completely that she became convinced she needed to reach a wider audience. While successful, the single flagship store in Houston did not make it possible to grow an online presence capable of delivering her product to the world. So she pivoted, hard.
In 2018, Roxie shut down her store and plunged into beautytech. She didn't know anything about raising money, getting investments, venture capital, or ecommerce. It was humbling. What she did know is that there was a huge market for more inclusive beauty products and for makeup made from better ingredients. It was a market waiting to be served—not just in Houston, but around the world. 
Her timing, it turns out, was excellent. Roxie relaunched in 2020, at a moment in which ecommerce sharply increased due to the pandemic. Listening to her instincts about her business, and to her team at LAMIK, allowed her to tap into several trends that were already emerging in the beauty industry—direct-to-consumer sales, custom product based on photo color matching, augmented reality, and a new, more interactive version of shopping from home for digital natives. Her products are on the shelf at Ulta, the largest beauty retailer in the U.S. In two years she went from traditional store to fully online, vastly expanding her customer base and the brand's potential in the process.
Sherrell Dorsey spoke with Roxie about how she led her team through a major change, what it's like to shut down something successful in hopes of making something even better, and the power of not knowing. 
I want to launch right into your pivot. I think your story will resonate with so many founders.
In 2018, I closed my brick and mortar store. I stopped doing business the way I had been—and not because it wasn't working, it actually was working. I saw this vision for a new way. 
I was trying to expand my company back when I had the store. I wasn't venture-capital backed—I didn't even know about that back then. And I couldn't figure out how to expand. I was like, The way things are set up, I cannot expand this way. I need to be an ecommerce company. I need to go digital. My product is amazing, that's what my customers are saying. I've got to get it to where women all around the world can get LAMIK. 
So I wrote this long letter, crying, to my community, and I closed down my store because it was holding me back. Because the LAMIK store was not just a place where people got their eyebrows done. It was a therapeutic sort of place, a place where women came and shared their most intimate things, a safe place for them. It was also a place where we raised money for nonprofit organizations in the community. So when I was closing that down, I was closing down all of that, too. So I had to be really thoughtful about how I expressed myself. 
I expressed to them that I wanted to figure out how to get LAMIK out into the world and that I didn't know how to do that. I had to be honest and say I had a knowledge gap. Who feels good about saying, Hey, I'm writing this letter to let you know, I'm kind of stupid. I'm a little ignorant, you know what I'm saying? Just a little bit. I don't know how to do this. So I gotta go figure out how to do this. 
People were like, Why don't you keep doing what you know how to do? 
I believe there's somebody who's reading right now, who's like, I want to tap into my weakness. I want to tap into what I do not know. And that's what I did, because I knew it was the future. What I don't know is the future. So I need to figure that out, because my future self needs to appreciate these decisions that I've made right now. 
Kim, there's so much vulnerability there. I love what you said about running into what you don't know. So now you are reinventing, not just your brand, but yourself at the same time. What are some of the more difficult parts of that journey? 
I had a whole case of trophies for being a small business owner in Houston. So you're asking someone who had been successful, to go and intentionally be unsuccessful. That's the part that mentally was taxing. I had to navigate through that—I had some rough times in 2018, in 2019, some really hard, rough times.
I closed down the store, and I started searching out tech accelerators. I needed to learn. I transitioned into this new life of not knowing anything, and running toward everything I didn't know. I found an accelerator called Divinc, in Austin, Texas. I remember going to Miami for Black Tech Week—that was one of my first tech conferences. I did a Divinc pre-accelerator, and then right after that, a venture-capital backed accelerator called Sputnik ATX in Austin heard my pitch. I got in over there and got my first pre-seed check, and was able to make LAMIK this ecommerce, beautytech-enabled company. 
So it sounds like you've raised a bit of venture capital funding. Is that the case?
I have not raised an equity round yet. The accelerator, that was a $100K check. Then I've done the Ifundwomen campaign in place of a friends and family round in 2019 to launch us in 2020. We got a couple grants last year, which were great. So we're still trucking along, still really bootstrapping. 
I was really happy, excited, and proud of that Ifundwomen campaign, because it educated so many women around what was going on in the venture capital space around women raising money. It also gave people the power to sort of be a part of the change. 
From a leadership perspective, did you take people along for the ride? How did you even have that conversation with your team about closing the store?
To be honest, my team started to expand and grow in their own ways. The manager of my Houston store, she worked with me for 10 years, a whole decade. She told me that she wanted to move back to Austin to be with her family. It was dead silence. You want to stop working and go move back to be with your family? You want to do what now? Say it one more time?
And come to find out? About a year or so afterwards, her mom passed away. And I was so grateful that she made that decision to move home to go be with her family. Her mom was healthy when she moved back. And she just wanted to be closer to her family because she had been away for so long. 
You have to start looking at the signs. I think that my team started to expand, started to want to spread their wings and do other things. That gave me a sign for my own business. It was them telling me they were moving to spread their wings, and they explained it to me. That helped me to understand what the next move was for the company.
Talk to me about brand building—you've been so aware of your demographic and ethics since day one. Tell us about LAMIK and how you developed the brand.
LAMIK stands for Love And Makeup In Kindness. I believe that beauty is revealed and not applied. We're here to make over the beauty industry. We look at LAMIK as an empowerment tool. It's a reminder, in your bag, in your pocketbook, on your counter in the bathroom, of really who you are. When you feel good, you actually look good. And then in reverse, when you look good, you feel good. When you feel good, it shows up on the outside. It really does. It really does. 
I ran my makeup shop for 14 years, and I opened it up when I was 21—so I always say that women raised me. Everything that women have gone through, I've been able to see over time, and it's taught me, it's been my lessons for life. I know for a matter of fact that the women that really feel good about themselves are women who project and extend the most beauty.
So you opened your first shop at 21 years old. Walk me through the journey of becoming an entrepreneur, and how you went from being focused on Houston to focused on reaching a wider audience. Before the pandemic, you were s​​preading this message across the country. You were on planes all the time. I thought I was busy, but you were everywhere, at every event. 
Well, Queen Dorsey, we were running neck and neck. In 2019 I took something like 68 flights. And you know, there's only 52 weeks in a year. And that's not counting bus, and train, and car, because I travel by all of them. 
Entrepreneurship gave us a path for exploration. I've been able to explore because of entrepreneurship. 
I live in the fourth largest city in the country, soon to be third. I live in the most diverse city in the country. I had exposure to all these different communities and it got me to thinking that if the women here in Houston were coming to our store, we were making such an impact here, they were loving it, that I wanted to go see what other women thought and explore that. It's always been making my own way and collaborating with others, like yourself, to be able to bring me to different spaces. And that's what I would do. 
And now? LAMIK 2.0, talk to me about it.
LAMIK is a beautytech-enabled color cosmetic brand. What that means is that we are digital first. We're trying to make it easier for women to buy makeup online than it is in person—especially for women who've been rejected by the beauty counters, and by the cosmetic industry. 
I got to see how makeup was being sold at beauty counters. People were being hired and they would stay within the beauty area for maybe three months—the next thing you know, they're in shoes. They're never getting proper training, and people are not being properly addressed at the beauty counters. So that was an issue. 
I saw through online forums as well as in my store, women of color are having a hard time finding makeup that will show up on their skin. It's like finding a needle in a haystack. I took that learning, I took the fact that people would come to us be like, I heard that y'all know how to match my skin. So we figured that out. 
I was suffering from hair loss. I had a lot of customers who had thyroid issues. They were having different issues with their skin and hair loss along the eyebrows. Some of them had lupus, some of them had eczema. You have to be very careful about what you use. I'm very cautious, and for LAMIK, we're very thoughtful around ingredients, being able to use things that are safe and helping people understand what you're putting on. Knowing if you're allergic to it or not, and helping customers, educating them around that. 
So then I put all that together. One, I know how to match foundation to anybody's skin. I have deep expertise around that. I've seen every complexion in the past 14 years. I put it online—send me a picture, I'll send you back a foundation that matches your skin tone. So we started sending custom-blended foundations to people's homes last year, based on pictures they sent us. 
I started to go online doing live streaming with the product as well as selling our products live and showing women how to do their makeup from home. We started that last year, and it's really been driving our business. Just showing customers that, for example, my eyebrows do not grow in all the way, and this is the brow kit that I'm using. It's made from 88% natural and organic ingredients. So we're using everything online to get our product to the customer. 
We're selling our brow duos, we're selling our custom-blended foundation from a picture. We are doing augmented reality on our site where you can virtually try on our brow kit. We have a quiz that asks questions to recommend the right product to you. We just want to make it easy. We're still building on this. 
I believe that this live streaming that we're doing now, this live shopping experience is also a big part of the future of retail. I love it because I love getting in front of people. What I missed about my store was being able to interact with people, and the live shopping gives me that opportunity to come right in my person's home and interact with them in a way that I loved doing inside my store and what made it successful.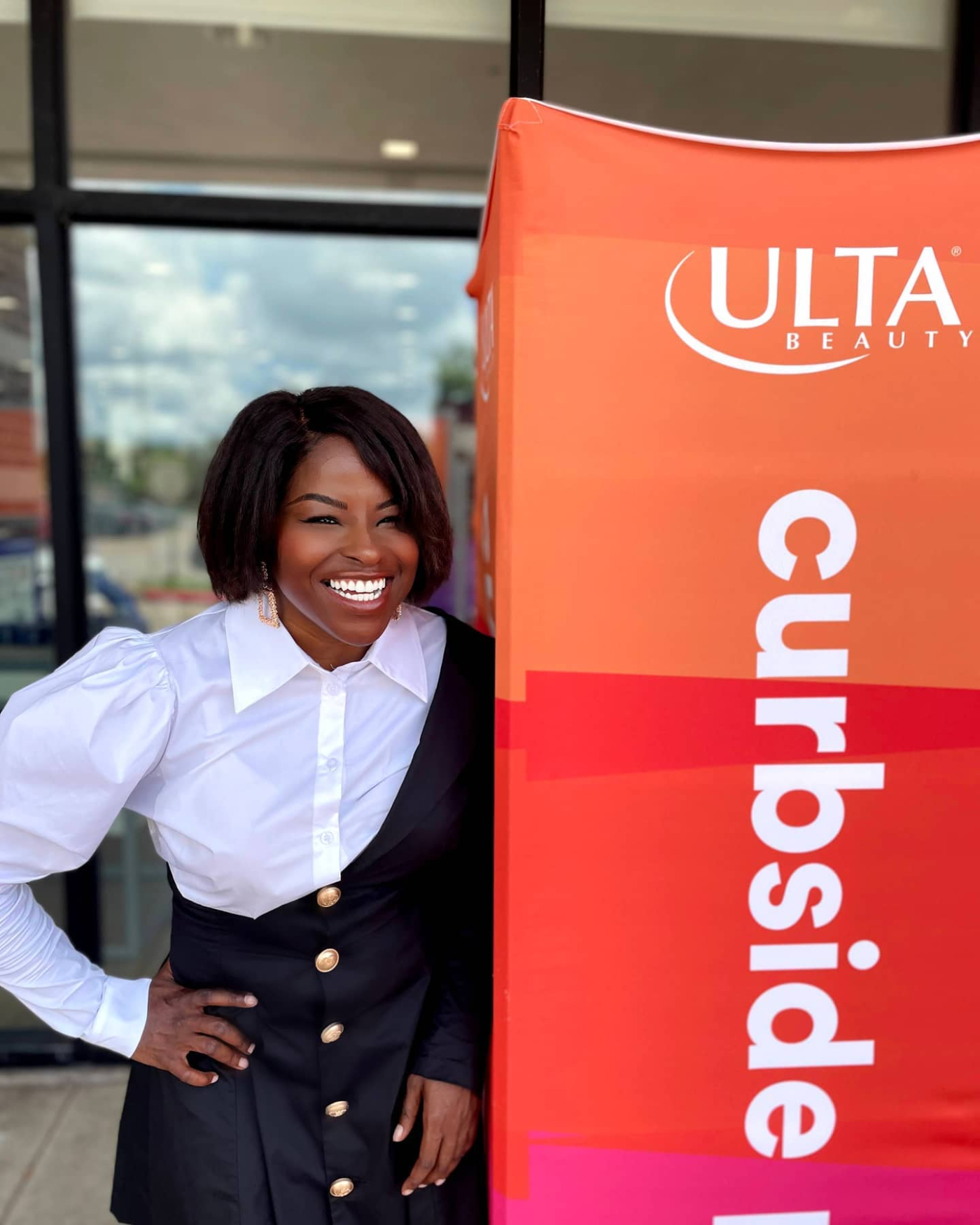 We will be launching with Ulta later this summer. (LAMIK hit the shelves in early August. —Ed.) So we're really excited about that. We started last year with a couple online distributors, Black, woman-owned Geenie World and Inside Outer Beauty. We were going direct-to-consumer when we started out, and then I was a part of a pitch competition last year and won this spot for national online distribution with a major retailer. So we're excited about that. 
Who are you today as a boss, and as a CEO, that's different from who you were when you first opened the doors to the LAMIK shop?
I'm very similar to that person. I'm still taking chances. I still don't know what's around the corner, but I don't care. 
I am a person today who understands that all things work together for the good. And that I really don't have any competition. Back then I used to think I had competition. Now I understand that I don't. It's not so much that I'm so great. It's the fact that everybody has a purpose. Somebody else can have a purpose in selling makeup.  I've collaborated with other people who sell makeup. Back when I started, I would have never thought that that was the right thing to do. Now I just understand the vastness of it all. I really appreciate the girl who opened up that store at 21. I appreciate her a lot. I actually have to channel her a lot now.
I'm just always floored by all that you've been able to accomplish, because a lot of folks might have thrown in the towel, and said like, Let me go get a nine to five somewhere or try something else. So I just really want to commend you.
You know, I appreciate you too. For me, it's about gleaning from different sources of inspiration and acceleration. You're one of those places for me. I look at what you're doing, and how you're moving along, and I'm like, I'm going to continue to move along too.
I'll be honest, I thought that when I closed the store, and I had to go figure things out, I thought things were gonna work out a lot faster. I was like, Oh, you know, I'm going to relaunch in… this accelerator is three months? I'll relaunch in four months. That's what I was thinking. Then when it went a lot longer, I was like, Okay, nine months, it takes nine months to have a baby, that's all it's gonna take for me. And then 2020 was really my year where I came back and we really launched things. 
It's just funny because if I had known that it would have been all of these things when I was in the middle of it, I definitely wouldn't have done it. But I didn't. I didn't know.
This was a conversation between Sherrell Dorsey and  Holden Page, edited for length and clarity by Annaliese Griffin and Rachel Jepsen. Reply to this email if there's someone you'd like to see us interview in the future.