Cybernaut
O

h, to be young and online!

Cyberbits Edition #1, a weekly curated newsletter of internet finds.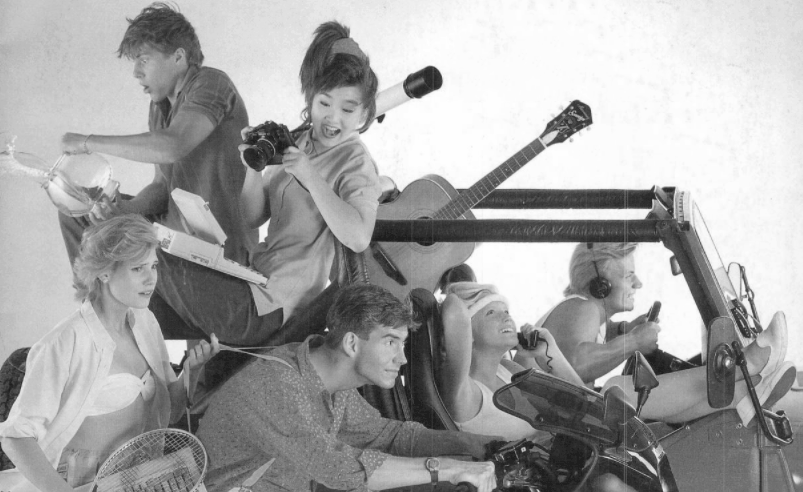 Welcome to the first edition of Cyberbits!
Cyberbits is a weekly curated newsletter of fascinating finds on the internet, from random Reddit threads to weird webpages. I'll also include interesting bytes I come across working on longer Cybernaut essays—like cool clips I had to leave on the cutting room floor to avoid making each article 5,000+ words. I send this out every Friday!
This week: throwback teen forums, "haunted" houses, and online arranged marriages.
---
Internet Nostalgia
I've been thinking and writing about spaces where teens and young adults are hanging out online for an upcoming piece—from the comments section on TikTok to private Discord servers.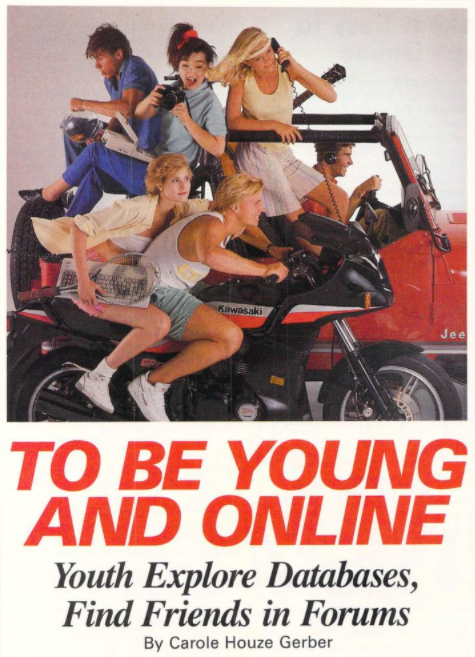 Based on this excerpt from an article (complete with an incredible photo) in the August 1987 issue of Online Today magazine, not much has changed—teens have always been ahead of adults when it comes to exploring the infinite online interior: 
"Most kids find their friends in obvious locations, usually at school or in the neighborhood, and they can look in the same places online. The difference is that online forums offer not one school or one neighborhood but dozens. There are forums for hobbies and forums for chatting; forums for looking at pictures and forums for playing games; forums for hanging out with friends your own age and others for listening to world-renowned experts offering the lowdown on space (GO SPACEED) or science fiction (GO SCIFI) or even on fish (GO FISHNET). "
I love this description of discovery without mobility. The internet allows anyone to explore the world from whatever tiny town they happen to be in:
"In most cases, children and teenagers — like adults — are somewhat confined by their lifestyles. Where they live and who their friends are shape them. Getting online provides a quick, easy and fairly inexpensive way of getting out of their own communities to learn what the rest of the world is doing."
Check Out This Stuff
Rabbit Holes
Ex-Racist people of reddit, What changed your views? — I came across a popular thread on Reddit with thousands of comments describing how people went from a place of prejudice to understanding. The stories are all different, but they share a commonality: racism rarely stands up to the light. Hatred often emerges from ignorance. But when the Black kid at school has the same backpack and shoes or a bad sitcom exposes you to people with different backgrounds, it's hard to stay in the dark.  
How to negotiate continuing to work remotely? — The possibility of returning to the office is imminent and not everyone's happy about it. In a Hacker News thread with hundreds of comments, posters commiserate on getting back to commuting, advise on making one's self indispensable, or suggest a question that might make high-ups squirm at the legal implications: "I'm not comfortable returning to the office for health reasons. Will I be fired?"
Interesting Internet
Done with dating? Have strangers arrange your marriage — You could be 25 survey questions and a Zoom call away from finding your spouse. At least that's what Justin Murphy and Default Friend are suggesting with their Arranged Marriages project. They've received 1,000 submissions and have narrowed down the pool to two potential marriages. It's a bizarre but interesting experiment that speaks to the fatigue with our current Tinder-Bumble-OkCupid-Match dating culture. The term arranged marriage might elicit an eyebrow raise, but these relationships appear coercion-free. On the other hand, without the scaffolding that supports other arranged marriages (church, community, culture) it might just turn out to be Twitter match-making gone wrong. 
A dating app that started as a bit — Two of my favorite online creators, comedians Jake Hurwitz & Amir Blumenfeld, built a dating app called Orion. Since 2013 they've hosted If I Were You, an advice show largely focused on dating questions, making them certified dating experts. A mini-series they created, Lonely and Horny, centers on a neurotic character gaining access to a fictional exclusive dating app, Orion, comparable to the very real Raya. In the tradition of fictional brands becoming real, Orion is now downloadable in the iOS and Android app stores — with an emphasis on dating being funny.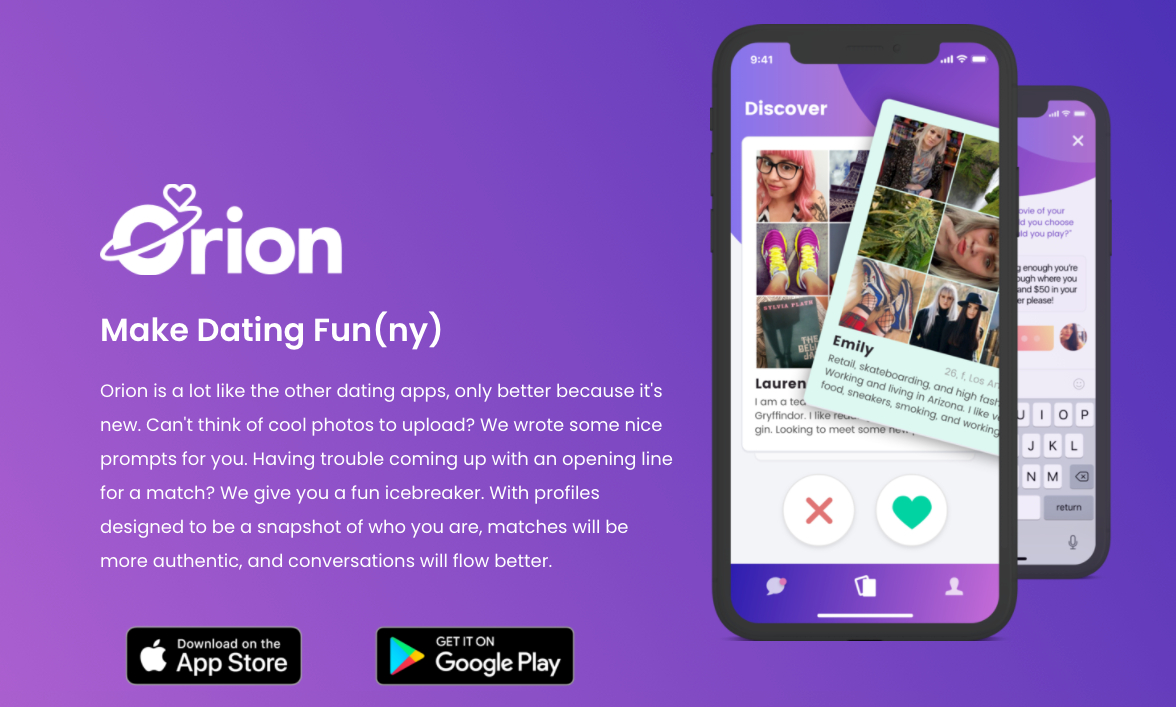 Throwin' it Back 
You're not being haunted; you're being poisoned by carbon monoxide — There's a theory that a house feeling "haunted"—weird distant screams, plates flying against the wall, slamming doors—is really a result of old gas appliances leaking carbon monoxide, causing strange hallucinations. In a now-famous Reddit post from six years ago, a concerned renter expressed their worry about the little post-it notes being left around their apartment, and computer files being mysteriously deleted. A reader somehow guessed that they might have a CO leak, which turned out to be true. Thanks to Alec Stapp for the tweet that led be back to the thread.
Tumblr Said No To Ads (Until They Didn't — I've written about how social platforms, like Clubhouse, inevitably go from cool to corny. That's why I find this 2010 article interviewing Tumblr's Founder, David Karp, incredibly interesting. In his short interview with the LA Times, Karp, then leading a small team of eleven, eschews ever adding advertising to the platform: "We're pretty opposed to advertising." Fast forward, and Karp stepped down as CEO after Yahoo, their parent company, was acquired by Verizon. Tumblr went on to ban NSFW content on the site—a move that was widely panned and largely suspected to be because of advertising, the very thing Karp avoided at first. How do we prevent the de-magic-ing of online spaces? Surely, a part of it is finding models that move beyond ads.
Dive In
Internet Article Archive
The Premium Mediocre Life of Maya Millennial — This week I was thinking of how to describe the bland chillness of lo-fi music and the word "premium mediocre" popped into my head. Coined by Venkatesh Rao in 2017, premium mediocre is hard to succinctly describe but you generally know it when you see it, taste it, hear it, experience it:
"Premium mediocre is the finest bottle of wine at Olive Garden. Premium mediocre is cupcakes and froyo. Premium mediocre is 'truffle' oil on anything (no actual truffles are harmed in the making of 'truffle' oil), and extra-leg-room seats in Economy. Premium mediocre is cruise ships, artisan pizza, Game of Thrones, and The Bellagio. Premium mediocre is food that Instagrams better than it tastes."
Fresh Content
My Google search history: a frank interrogation — Ashley Feinberg started a new series on Trashberg asking people to do what they fear most––expose and walk through their online browsing logs. Ever the host, she started with herself. Among her searches include "Barbara bush cell phone" (for her go-to profile picture) and "ashley feinberg age" (allegedly, not because she forgot her own age). 
Tweet Through It
---
Let me know something interesting you enjoyed this week online—whether it's a new find or something you came back to! :)
Have a lovely weekend,
Fadeke